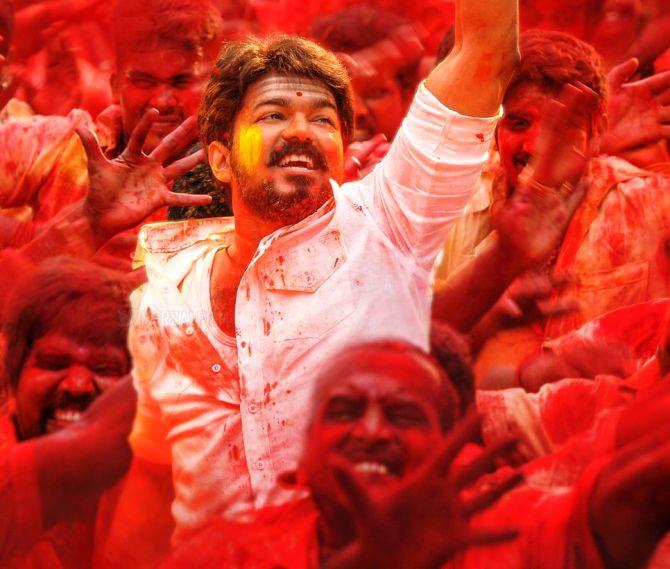 Congress vice president Rahul Gandhi on Saturday asked Prime Minister Narendra Modi not to "interfere" in the just-released movie Mersal, saying cinema was a "deep expression" of Tamil culture.
The comments came a day after Union Minister Pon Radhakrishnan demanded removal of dialogues portraying what he termed as "untruths" about the Goods and Services Tax in the Vijay-starrer movie.
"Mr Modi, Cinema is a deep expression of Tamil culture and language. Don't try to demon-etise Tamil pride by interfering in Mersal," Gandhi said in a tweet.
On Friday, Radhakrishnan had demanded the removal of the "untruths" about the GST, rolled out by the Bharatiya Janata Party-led National Democratic Alliance government on July 1.
"The film producer should remove the untruths regarding the GST from the film," Radhakrishnan had said.
Tamil Nadu BJP chief Tamilisai Soundararajan and national secretary H Raja, have strongly opposed references to the movie and claimed dialogues in it were "highly inappropriate".
Against the background, Chidambaram tweeted, "Notice to film makers: Law is coming, you can only make documentaries praising government's policies."
"BJP demands deletion of dialogues in 'Mersal'. Imagine the consequences if 'Parasakthi' was released today," the former Finance Minister said in another tweet.
Parasakthi was the debut film of yesteryear top star Sivaji Ganesan in 1952 and the dialogues were written by DMK chief M Karunanidhi, who was then a budding leader in the party and a screen writer.
The super-hit movie had powerful dialogues espousing reformist and egalitarian ideals. Chidambaram had asked what would happen if the movie were to be released on Saturday.
Replying to the tweet, Tamil Nadu BJP leader and national secretary H Raja said if that were to happen, people would not allow the government to run temples by quoting a popular dialogue from it.
Raja was reiterating the stand of the BJP and right-wing outfits that the state government should stop administering temples and hand them over to devotees.
Raja also claimed that the film exposed Vijay's "hatred" for Modi.
Soundrajan, who has been opposing the references to the GST, in a tweet said, "MERSAL ridicules Dedicated Doctors disheartened/ambulance drivers shown corrupt/doctors should take 5rupees while the actor gets crores??"
AISMK chief and actor Sarath Kumar tweeted: "A film which is CERTIFIED by censor board cannot be questioned. If questionable, why censor board at all?#Mersel."
Taking to Twitter, Tamil film actor Kamal Haasan said, "Mersal was certified. Don't re-censor it. Counter criticism with logical response. Don't silence critics. India will shine when it speaks."
Former Union minister Shashi Tharoor said that the Congress stood for freedom of expression.
"Remember: @INCIndia stands for freedom of expression, in or out of power. Creative freedom is only safe in the hands of those who value it," he tweeted tagging Rahul Gandhi.
Image: Poster of the film. Photograph: Courtesy @MersalFilm/Twitter
© Copyright 2021 PTI. All rights reserved. Republication or redistribution of PTI content, including by framing or similar means, is expressly prohibited without the prior written consent.