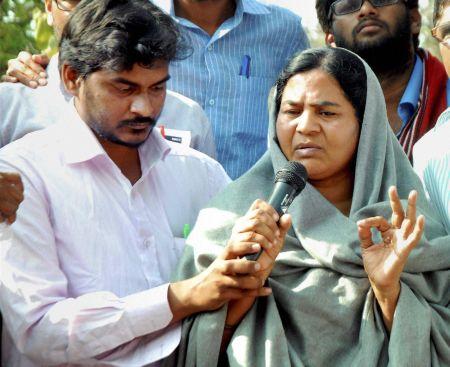 The mother of Dalit research scholar Rohith Vemula on Friday refused to meet Vice-Chancellor Appa Rao Podile when he went to her house, saying she would meet him only on the campus along with four other students who were suspended.
The VC, along with two other professors, went to meet Rohith's mother, Radhika, at her residence in Uppal area.
"I went to meet Rohith's mother along with two professors who informed her that I had come and wanted to meet her. But she conveyed to them that she will meet me only on the campus along with four other students," Podile said.
Podile, who is under attack over the Dalit student's suicide, claimed that Radhika, during her meeting with professors Geeta and Prakash Babu, expressed regret for demanding his resignation.
"We (Radhika) have no objection to meeting him (the VC) anywhere in the campus along with the four students and not outside," Podile quoted Rohit's mother as telling Geeta.
The suspension of the four Dalit research scholars, against whom action was taken along with Rohith for allegedly assaulting a Akhil Bharatiya Vidyarthi Parishad leader, was revoked on Thursday by HCU authorities owing to intense pressure.
Rohith's younger brother, Raja , said Union HRD Minister
Smriti Irani assured his mother of "initiating necessary action based on the report of the two-member committee".
The team of Shakila T Shamsu, OSD in the Ministry, and Deputy Secretary-level officer Surat Singh, came to Hyderabad to look into the entire matter and interacted with all the stakeholders.