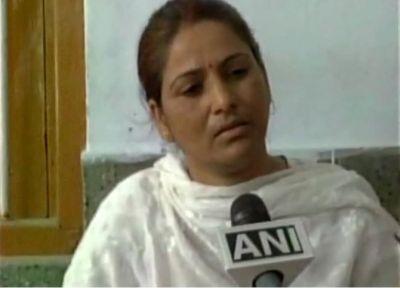 Yadav admits he shot 20-year-old Aditya Sachdeva.
Suspended Janata Dal-United member of legislative council Manorama Devi, whose son had allegedly shot dead a youth for overtaking his vehicle, filed an anticipatory bail petition on Friday in the district court in connection with recovery of liquor bottles from her house during a search.
On behalf of Manorama Devi, advocate Qaiser Sarfuddin filed the bail petition in the court of (in-charge) District Judge S N Singh who posted the matter for hearing on Monday.
While talking to reporters in Gaya after filing the petition, Sarfuddin said that Manorama Devi, who has been absconding ever since the liquor bottles were found from her Gaya residence, will not surrender before the court.
Manorama Devi's counsel further claimed that she has been 'implicated' in the case as the allegations levelled against her are false.
The counsel said that she was not named accused in the first information report in connection with liquor bottle recovery case.
Meanwhile, the police on Friday pasted the order for attachment of property of Devi in three places after getting the court nod to do it.
The order was pasted at Manorama Devi's residence at posh Anugrah Puri colony, Gaya railway station and her husband Bindi Yadav's mixer plant in Bodh Gaya from where their son Rocky Yadav was arrested in connection with the murder of a youth.
Earlier in the day, the Gaya police made a plea to a district court to grant permission for property attachment of Devi which was accepted.
A day after her suspension from the JD-U, the excise department on May 11 sealed residence of the MLC in connection with recovery of liquor bottles as police stepped up search for the legislator who could not be traced.
Officials of the excise department, with the help of police, sealed the residence of Manorama Devi in posh Anugrah Puri colony, Senior Superintendent of Police Garima Mallik had said.
The Gaya police acquired a warrant of arrest against her on Wednesday in the liquor case.
The house was sealed in the wake of a case registered against the MLC with Rampur Police Station in connection with recovery of 6 bottles of Indian Made Foreign Liquor from her house during Monday's search for her son Rocky Yadav who allegedly shot dead a youth in Gaya on Saturday night.
Wife of Rashtriya Janata Dal strongman Bindi Yadav, Manorama Devi became an MLC from JD-U in 2015. Earlier, she was an MLC from the RJD from 2003 to 2009.
Meanwhile, Rocky Yadav confessed to the police on Friday that he had fired a shot on the youth, Aditya Sachdeva, a charge which he earlier denied.
"Rocky has revealed that he fire a bullet on Aditya following a heated exchange," a district police official in Gaya said.
Earlier, Rocky had denied his involvement in the killing.
Rocky informed the police that after the incident, he escaped to Patna and then to Delhi. But, after his father Bindi Yadav was arrested in this case, he was forced by his mother to come back.
The post-mortem report has confirmed that Aditya died due to bullet injuries in the neck. The report says that there was no other injury except the bullet wound.
According to the report, the bullet fractured his first and second cervical vertebra into multiple pieces. Two broken pieces of the bullet were lodged into the body. They have been retrieved and handed over to the police.
With inputs from M I Khan in Patna
© Copyright 2019 PTI. All rights reserved. Republication or redistribution of PTI content, including by framing or similar means, is expressly prohibited without the prior written consent.