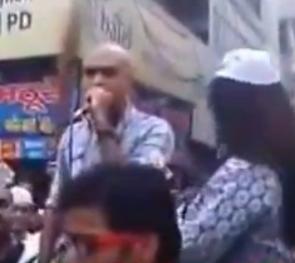 The Aam Aadmi Party faced an embarrassing situation when a television host campaigning for one of its candidates allegedly used foul language against Home Minister Sushilkumar Shinde at a public meeting in New Delhi.
However, later AAP and MTV Roadies host Rajeev Laxman apologised for the remarks, saying it was "unfortunate". Laxman, while campaigning for the AAP candidate from R K Puram assembly constituency, Shazia Ilmi, yesterday allegedly used foul language against Shinde during a public meeting.
The incident, which came to light after a video went viral, left AAP red-faced as the party claims of promoting clean politics.
In the apology issued later, the Arvind Kejriwal-led party said, "AAP does not encourage use of any unparliamentary language by its leaders or members or supporters. Laxman has already realised his mistake and apologised for his remarks.
He has also clarified that AAP has nothing to do with his remarks and it was his mistake." The AAP said it is against the use of any foul language by its members or supporters.
"AAP is against use of any foul language by its members or supporters. We stand for honest and clean politics and will continue to do so. We will also ensure that such mistakes are not repeated," the party said.
Laxman while apologising for his comment said that it was the way he speaks normally and "it was not meant for Shinde or any individual." Ilmi also termed the episode as "unfortunate" and apologised saying it was his way of talking and connecting with youth. "It was unfortunate, and any kind of abusive language must not be used in public domain," she said.