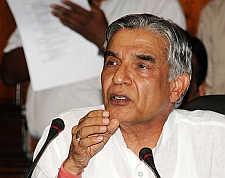 In a sensational case of alleged bribery of Rs.90 lakh for fixing a top level position in the government, Railway Minister P K Bansal's nephew was arrested on Friday by the Central Bureau of Investigation which also held a member of the railway board.
Senior officials said that Bansal's nephew V Singla was arrested in Chandigarh for accepting Rs.90 lakh in cash from Manjunath, the conduit of Mahesh Kumar, recently promoted as member (staff) and trying to get a lucrative position as member (electrical).
Kumar was arrested in Mumbai by a CBI team soon after he had flown in from Delhi. CBI has registered a case under the Prevention of Corruption Act and the Indian Penal Code against him.
The other person arrested by the CBI was Sandip Goyal, who allegedly assisted in brokering the deal. Bansal, who was in the capital, avoided the media despite repeated attempts to contact him. When contacted, Congress spokesperson Rashid Alvi said this case has nothing to do with the party.
In pic: Mahesh Kumar
Picture courtesy: pib.nic.in