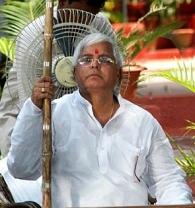 The Rashtriya Janata Dal has decided to issue show-cause notices to the four Members of Legislative Assembly who failed to turn up at the Legislature Party meeting at the residence of former chief minister Rabri Devi in Patna on Tuesday.
"We will show cause the errant MLAs -- Samrat Chaudhary, Raghvendra Pratap Singh, Akhtarul Iman and Javed Iqbal Ansari -- asking them to explain reasons behind their absence from our meeting," RJD Legislature Party leader Abdul Bari Siddique told reporters.
The party will consider taking further action against them if they failed to reply to the show-cause notices, he said.
Earlier, RJD supremo Lalu Prasad, along with 14 MLAs, including the nine who had signed the letter of their decision to split from the parent party on Monday, walked up to the state legislature premises and found the gates shut.
However, they were soon allowed inside and they went up to the Speaker's chamber to submit a letter on behalf of the nine MLAs pledging their loyalty to the party.
Not finding the Speaker in his chamber, Lalu led the MLAs to the chamber of assembly secretary Phool Jha, where the letters of allegiance on behalf of each of the nine formerly rebel MLAs were submitted to the official.