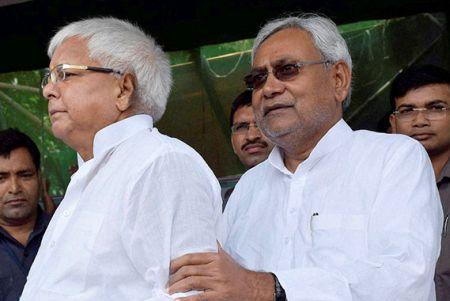 Lalu Yadav's party said that it was only in Bihar that the CM had a case under Section 302 filed against him.
M I Khan reports.
Stung by Nitish Kumar's betrayal, the Rashtriya Janata Dal launched a scathing attack on the Bihar chief minister, demanding that he resign immediately as he too had serious cases against him.
Senior RJD leader Jagdanand Singh said, "Nitish Kumar should explain to 11 crore people of Bihar if he is or isn't an accused in a case under Section 302 (murder) and the Arms Act."
Singh addressing a press conference said that Nitish Kumar and his party, the Janata Dal-United, should satisfy the people of Bihar and explain the cases against him.
Singh,a former minister, considered close to RJD chief Lalu Prasad said Bihar is the only case where an accused under Section 302 is chief minister of the state. "Desh mein kisi bhi aanay pradesh mein 302 ka aaropi CM ke pad par nahi baithe hai," he said.

Singh said that till the court decided the criminal case against Nitish Kumar, he should not occupy the top post of the state government. According to Singh, if an accused of 302 is a CM, how can justice be delivered.

Singh said RJD was forced to raise the pending case against Nitish Kumar dating back to November 1991 when one Sitaram Singh, 22, from Dhibar village was killed in firing at a booth during Barh Lok Sabha by-poll.

"It is far from truth as JD-U leaders claimed last week that Lalu Prasad has been raking up the case in vain. Radha Krishna Singh, the elder brother of the victim, is seeking justice in the case," he said.

Singh said security of the victim's family has been withdrawn. "We fear that the victim's family may be eliminated as to what happened in the infamous case of the Vyapam scam in Madhya Pradesh."
Last week, son after Nitish Kumar resigned, Lalu Prasad had also attacked Nitish on the same charge when the Bihar chief minister in a dramatic fashion put in his papers.