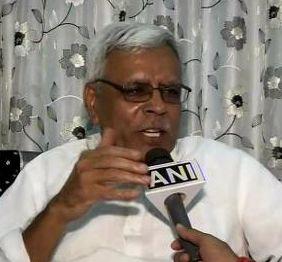 Senior Janata Dal-United leader Shivanand Tiwari on Tuesday attacked Bihar Chief Minister Nitish Kumar saying he feigned ignorance about the major upheaval in Rashtriya Janata Dal despite being the "sutradhaar" (mover) of the event.
"The mover of the entire episode very politely told mediapersons that he is ignorant about the event. I wish to salute his politeness," Tiwari said in a statement.
After being denied a second term in Rajya Sabha as JD-U nominee, Tiwari has missed no chance to take potshots at Kumar.
Tiwari praised RJD legislature party leader Abdul Bari Siddiqui for practising "principled" politics.
"Shunning lure of deputy chief minister post from JD-U as per reports of offer to contest either Lok Sabha or go to Rajya Sabha, Siddiqui remained with RJD and strongly defended his party," he said.
RJD saw a major upheaval on Monday with 13 out of its 22 MLAs quitting the party. But six of them later returned and denied walking away from the party.
Meanwhile, Bihar JD-U president Basistha Narayan Singh told PTI that the matter was as "internal matter" of the RJD and "we have nothing to do with it."
But, the episode makes it clear that "there is discontent and murmuring within that party (RJD)", he added.
Image: Senior JD-U leader Shivanand Tiwari
© Copyright 2022 PTI. All rights reserved. Republication or redistribution of PTI content, including by framing or similar means, is expressly prohibited without the prior written consent.