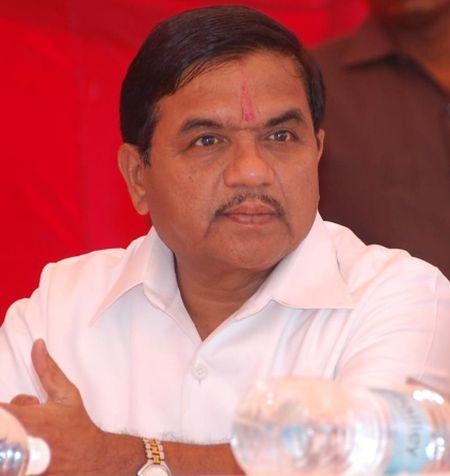 Senior Nationalist Congress Party leader Raosaheb Ramrao Patil, better known as R R Patil or 'Aaba', was a quintessential grass root politician who rose up the political ladder in Maharashtra due to his integrity and honesty.
Patil, born on August 16, 1957 into a family with modest means at Anjani in Tasgaon tehsil of Sangli district in western Maharashtra, started off as a student leader while studying law and debuted in politics as Zilla Parishad member.
Known as 'Mr Clean', his good organisational skills and ability to identify with rural issues and sensibilities helped his remarkable political journey which peaked when he became the deputy chief minister.
However, his sometimes casual off-the-cuff statements before the electronic media, and the controversial decision to ban the dance bars, dogged his career as the home minister.
Initially a protege of the late Vasantdada Patil, R R found a mentor in Sharad Pawar, who was then in Congress.
Inducted for the first time in the Democratic Front government in 1999 as the rural development minister, Patil was assigned the home portfolio in 2003-end after Chhagan Bhujbal resigned in the wake of Telgi scam disclosures.
He had earlier made his mark as rural development minister by initiating a cleanliness campaign, Sant Gadgebaba Abhiyaan, in rural areas.
After spending 11 years as ZP member, Patil was elected to assembly for the first time in 1990 from Tasgaon on a Congress ticket. He went on to win the seat five times.
He stood out for his oratory while on the opposition benches during the Shiv Sena-Bharatiya Janata Party rule from 1995-99. He became the chief Whip of Congress in Maharashtra assembly as well as chairman of Public Accounts Committee in 1996–97 and 1998–99.
When Pawar left Congress and formed NCP in 1999, Patil threw his lot with the Maratha strongman. He was subsequently rewarded and appointed NCP's Maharashtra unit chief.
His rural roots helped him identify the needs of the villages and democratise the functioning of Panchayati Raj institutions.
However, as the home minister, his infamous comment in the aftermath of the November 2008 Mumbai attacks – "bade bade shehron mein choti choti batein hoti hai" -- landed him in a soup.
When asked at a press conference whether the terror strike was an intelligence failure, Patil said, "It is not like that. In big cities like this, small incidents do happen. It's is not a total failure."
Eventually he had to resign on December 1, 2008.
Before that, another controversy that dogged his tenure as the home minister was the result of his decision to ban the dance bars in Mumbai and elsewhere.
The state government was left red-faced when the Supreme Court struck the ban down.
He became home minister of Maharashtra for the second time after the victory of Congress-NCP alliance in the 2009 Maharashtra assembly elections.