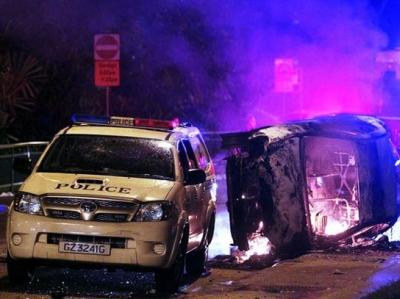 Singapore Prime Minister Lee Hsien Loong has described the outbreak of violence among South Asian foreign workers on December 8 as "inexcusable".
But he assured that Singapore will treat its guest workers fairly as long as they abide by the city state's laws.
"We will continue to treat foreign workers fairly, but we expect them to obey our laws and social norms," said Lee in his New Year message.
"The riot in Little India was inexcusable. We have taken firm action against the culprits. Several have been charged, others warned and repatriated, and still others advised to abide strictly by our laws," he said.
"The Committee of Inquiry will establish how the riot happened, and how we can prevent such incidents in the future. The riot reminds us that we can never take good order, peace and stability for granted," said Lee.
The Committee of Inquiry was set up after the riots in Singapore, the worst outbreak of violence in over 40 years.
During his speech, Lee also underlined the importance of foreign workers to Singapore.
"We are taking a balanced approach, reducing but not cutting off the inflow of foreign workers. This is why (Singapore) companies are finding it harder to hire the workers they need, especially SMEs (the small and medium enterprises)," Lee said.
"We are helping companies adapt by exploiting technology and becoming more productive. At the same time, we are encouraging firms to develop their Singaporean workforce and adopt fair employment practices. But we still need foreign workers to keep our economy running and to build critical infrastructure for Singaporeans," added Lee.
Nearly 400 South Asian migrant workers were involved in the rampage in Little India on December 8, a precinct of Indian-origin businesses, eateries and pubs, where most South
Asian workers take their Sunday break.
Twenty five Indians are facing court charges for rioting; 56 Indians and one Bangladeshi have been deported. The Singapore government has also issued police warning to 200 other South Asian workers.