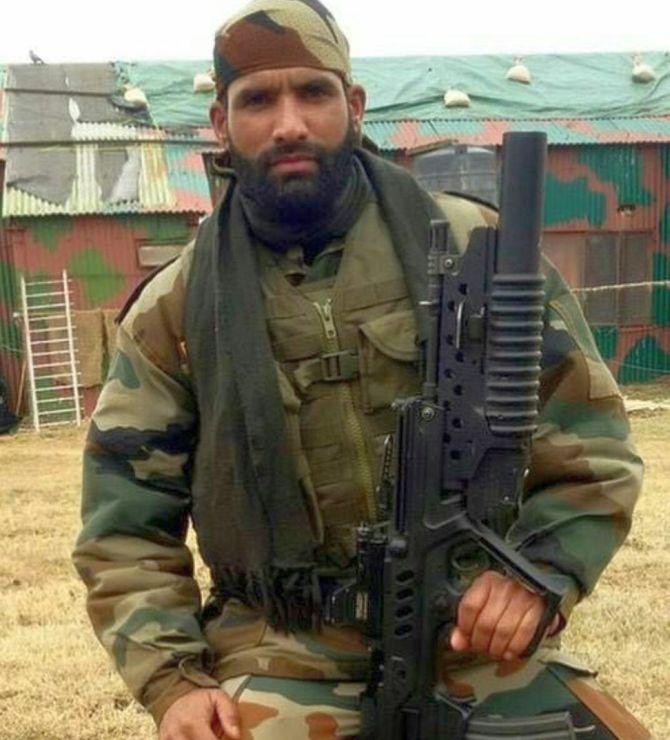 Major Aditya Kumar, who was embroiled in a controversy after his unit fired on a stone-pelting mob in South Kashmir's Shopian in January leading to death of three persons, is among 20 armed forces personnel named for the Shaurya Chakra award.
Rifleman Aurangzeb, left, who was brutally killed by terrorists in Pulwama in June when he was on his way home for Eid, will also be conferred the third highest gallantry award.
Sepoy Vrahma Pal Singh has been named for the Kirti Chakra award posthumously. He was killed in an anti-terror operation in November 2017 in Algar village in South Kashmir.
Six women officers of the Indian Navy, who were part of the expedition to circumnavigate the globe, were awarded Nao Sena medals.
The list of gallantry award winners was released by the defence ministry on the eve of the Independence Day.
The awards were approved by President Ram Nath Kovind, in his capacity as the Supreme Commander of the Armed Forces. No name for the Ashok Chakra, the highest gallantry award, was announced by the government.
A number of Army personnel who showed bravery and made sacrifices in anti-terror operations in Jammu and Kashmir figured in the list of gallantry awardees.
On selecting major Aditya for Shaurya Chakra, an official release said he is being awarded for 'meticulous planning and gallant action' during an anti-terror operation in Budgam in Kashmir in November 2017.
The unit led by Major Aditya had opened fire on a group of stone-pelters in Shopian on January 27 following which the Jammu and Kashmir Police filed a first information report against the army personnel involved in the incident.
In February, the father of Major Aditya had moved the Supreme Court seeking quashing of the FIR. During hearing of the case, the Centre said the state government cannot lodge an FIR against serving army personnel when the Armed Forces Special Powers Act (AFSPA) was in force in the state.
Rifleman Aurangzeb, who belonged to the 44 Rashtriya Rifles, was on way back home on June 14 to celebrate Eid when terrorists abducted him.
Hours later, his bullet-riddled body was found at Gussu village, about 10 km from Kalampora, in Pulwama district. His killing triggered widespread outrage in Kashmir.
The official release said Aurangzeb is being conferred the award for his bravery during an anti-terror operation in South Kashmir on November 6 last year.
Separately, a total of 96 Army personnel have been named for Sena medal. 26 Armymen were also selected for Mention-in-Despatches award.
Moreover, Central Reserve Police Force has been awarded five Shaurya Chakras, two President Police Medal for Gallantry and 89 Police Medal for Gallantry.
Head constable A S Krishna, constables K Dinesh Raja and Prafulla Kumar of the 45th battalion of the force were decorated with the Shaurya Chakra for their gallant act of thwarting a suicide attack on their camp in Sumbal in Jammu and Kashmir's Bandipora district on June 5 last year.
As the troops were alert and prepared, the CRPF team eliminated the four terrorists and finished the operation in quick 45 minutes, the citation for the operation read.
Deputy Commandant K S Chahar and constable D Ravindra Baban (posthumously) of the 182nd battalion of the force won the military medal (Shaurya Chakra) for their brave act of thwarting a similar attack by three militants on the district police line camp in Pulwama on August 26 last year.
The encounter had gone on for 20 hours.
'Head constable Baban laid down his life for the cause of the nation in the treacherous gunfire,' the citation said.
The country's largest paramilitary force, with over three lakh personnel in its ranks, got the highest of these bravery medals and only its personnel were chosen amongst all the forces for the top notch President's Police Medal for Gallantry (PPMG).
It also got 89 Police Medals for Gallantry (PMG) making the highest tally of these citations for it during any Independence Day.
While Constable Sharief-ud-din Ganaie and Head Constable Mohd Tafail got the PPMG posthumously for displaying raw grit and courage during the December 30 last year suicide attack on their camp in Lethpora (Awantipora district), eight of their colleagues were decorated with the PMG for the same operation.
The midnight attack on the 131-acre camp, that had inadequate perimeter security owning to ongoing construction, went on for over 36 hours during which five men of the paramilitary force were killed.
'Operation Lethpora was one of the most daunting and challenging operations and it was replete with numerous challenges, including logistical constraints, the enormous and knotty terrain, including rescue of scores of trapped force personnel in the buildings and overcoming of the initial casualities,' the citation said.
Three terrorists were killed at the end of the violent siege and a lethal cache of weapons and ammunition was recovered from them.
While Ganaie, who was one of the sentries of the camp, and Tafail laid down their lives in the line of duty, Deputy Inspector General (DIG) A S Negi, assistant commandants Naresh Kumar and L Ibomcha Singh, Assistant sub-inspector Uttam Raj and constables S Prakash, Jitendra Kumar, Budhi Singh and Zulfiqar Ahmed were also awarded for rendering their duty with courage.
The CRPF had deployed close to 65 battalions in Jammu and Kashmir for counter-militancy and law and order assistance duties. Each of its battalion had about 1,000 personnel.
A total of 177 PMsG were awarded this time to various state police and central paramilitary forces, a government release said.
The CRPF was followed by the Jammu and Kashmir Police that was accorded 37 PMsG, Odisha Police (11), Border Security Force (10), Maharashtra Police (8), Chhattisgarh Police (6) among others.
A total of 942 state police and paramilitary personnel were decorated with various service medals on the eve of the 72nd Independence Day.
In addition to that, 14 officials of the border guarding force Indo- Tibetan Border Police have been decorated with the President's Police Medals for meritorious and distinguished service.
Those decorated include Deputy Commandant and Senior Administrative Officer Devinder Pal (distinguished service) and Commandant of the 51st battalion M S Guleria (meritorious service), among others.
The nearly 90,000-strong force is primarily tasked with guarding the 3,488 km Sino-India border apart from other internal security duties, including conducting anti-Naxal operations.
18 officials of the Railways' police force have been awarded the President's Police Medals for meritorious and distinguished service on the eve of Independence Day.
Those decorated include Dr S N Pandey, Inspector General, Railway Board, for distinguished service. Seventeen others were awarded for meritorious services.
The winners of the President's Police Medal for meritorious services include Sanjay Kumar Mishra, DIG/RPSF (Railway Protection Special Force), Nagsen Shetiba Menger, Sub-Inspector/Central Railway, Mal Singh, Assistant Sub-Inspector/North Western Railway, among others.
The Railway Protection Force is a 65,000-strong security force entrusted with protecting passengers, passenger area and Railway property.
List of defence personnel who have been conferred gallantry awards
KIRTI CHAKRA:
Sepoy Vrahma Pal Singh (Army) (Posthumous)
SHAURYA CHAKRA:
Lt Col Arjun Sharma (Army)
Major Pawan Gautam (Army)
Maj Aditya Kumar (Army)
Maj Pawan Kumar (Army)
Captain Kaninder Paul Singh (Army)
Capt Varma Jayesh Rajesh (Army)
Naib Subedar Anil Kumar Dhayia (Army)
Naib Subedar Vijay Kumar Yadav (Army)
Havildar Kul Bahadur Thapa (Army)
Havildar Jaweed Ahmad Bhat (Army)
Gunner Ranjit Singh (Army)
Rifleman Aurangzab (Army) (Posthumous)
Rifleman Rathva Lilesh Bhai (Army)
Rifleman Jaiprakash Oraon (Army) (Posthumous)
Captain P Rajkumar (Navy)
Head Constable A S Krishna (CRPF)
Constable K Dinesh Raja (CRPF)
Constable Prafulla Kumar (CRPF)
Deputy Commandant Kuldeep Singh Chahar (CRPF)
Dhanawade Ravindra Baban (CRPF) (Posthumous)
BAR TO SENA MEDAL (GALLANTRY):
Capt Rakesh Nair (Army)
Capt Umesh Lamba (Army)
Naik Nazir Ahmed Wani (Army)
SENA MEDAL (GALLANTRY):
Lt Col Mahendra Pal Singh Bhadoria (Army)
Lt Col Samar Raghav (Army)
Lt Col Rakesh Tokas (Army)
Maj Ranveer Singh (Army)
Maj Jitendra Singh Mehta (Army)
Maj James Jacob (Army)
Maj Raman Gakhar (Army)
Maj Avijit Singh (Army)
Maj Vikram Sharma (Army)
Maj Abhishek Sinha (Army)
Maj Deepak Singh (Army)
Maj Khadse Nandkishor Dipak (Army)
Maj Kamal Kumar Chhetri (Army)
Maj Aditya Sharma (Army)
Maj Hemant Dutta (Army)
Maj V Rahul Saxena (Army)
Maj Jaikant Singh (Army)
Maj Bhanu Rana (Army)
Maj Mayank Mishra (Army)
Maj Sumeet Bharadwaj (Army)
Maj Girish Sharma (Army)
Maj Ishan Dhiman (Army)
Capt Sagar Prakash Pardeshi (Army)
Capt Shashank Sharma (Army)
Capt Krishnakumar K (Army)
Capt Udit Mohan Raj (Army)
Lt Navin Kumar (Army)
Subedar Karan Singh (Army)
Naib Subedar Bipin Singh (Army)
Havildar Ramvir Singh (Army)
Havildar Shiv Kumar (Army)
Havildar Ram Lal (Army)
Havildar Sandeep Kumar (Army)
Havildar Rakesh Kumar (Army)
Acting Lance Dafadar Hans Raj (Army)
Naik Satnam Singh (Army)
Naik Jagjit Singh (Army)
Naik Rakesh Kumar Chotia (Army) (Posthumous)
Naik Sanjay Singh (Army)
Naik Gulvir Singh (Army)
Naik Jagatinder Singh (Army)
Naik Bakshi Ram Singh (Army)
Naik Mudasir Ahmad (Army) (Posthumous)
Naik Zahir Abas (Army)
Naik Nazir Ahmad Bhat (Army)
Naik Surjeet Singh (Army)
Naik Devi Singh (Army)
Naik Dharam Pal (Army)
Naik Kulwant Singh (Army)
Naik Shreekant Kari (Army)
Naik Jagira Ram (Army)
Naik Lourdhu Raju Reddy Mosu (Army)
Naik Krashan Singh Rajput (Army)
Lance Naik Ajay Kumar (Army)
Lance Naik Partap Singh (Army)
Lance Naik Sanjay Yadav (Army)
Lance Naik Javaid Ahmad Bhat (Army)
Lance Naik Gopal Singh (Army)
Lance Naik Dinesh Kumar (Army)
Lance Naik Neelesh Singh (Army) (Posthumous)
Lance Naik Kainato K Achumi (Army)
Lance Naik Jatinder Singh (Army)
Sepoy Bhusare Shivaji Gangadhar (Army)
Sepoy Ravi Bhushan Shahi (Army)
Sepoy Vijay Singh Gurjar (Army)
Sepoy Surendra Kumar (Army)
Sepoy Dinesh Kumar (Army)
Sepoy Bhanu Pratap Singh Tomar (Army)
Sepoy Hariom Singh Pundir (Army)
Sepoy Abdul Aziz Khan (Army)
Sepoy Het Ram Godara (Army) (Posthumous)
Sepoy Jeewan Kumar (Army)
Sepoy Lalit Chand (Army)
Sepoy Sachin Kumar (Army)
Sepoy Mahesh Singh (Army)
Sepoy Lal Babu Yadav (Army)
Sepoy S P Somi (Army)
Sepoy Mukesh Singh (Army)
Sepoy Bansode Jivan Uttam (Army)
Sepoy Manjinder Singh (Army) (Posthumous)
Rifleman Krishna Chandra Jakhmola (Army)
Rifleman Sachin Kumar (Army)
Paratrooper Manas Tung (Army)
Gunner Ranjeet Kumar (Army)
Gunner Arvinder Kumar (Army) (Posthumous)
Sowar Rajesh Kumar (Army)
Sowar Rahul Singh Bhadouria (Army)
Sowar Sanjay Paswan (Army)
Signalman Kushwah Pradishingh Brijkishorsingh (Army) (Posthumous)
Sapper Pavan B S (Army)
Sepoy Pargat Singh (Army) (Posthumous)