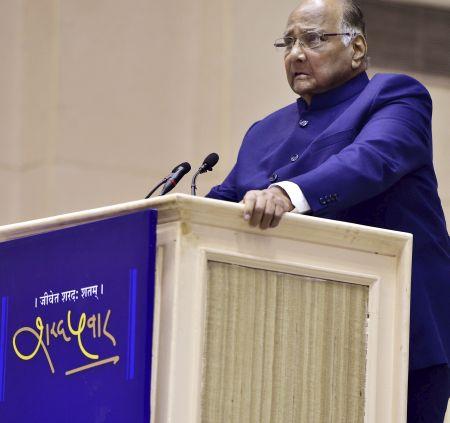 Sharad Pawar, who had opposed Sonia Gandhi's foreign origins in 1997 but patched up with her later, has now come out with details of how she had preferred P V Narasimha Rao to him in 1991 because she did not want "someone with an independent mind" to be the prime minister and how their relationship lacked "warmth".
He enumerates a number of instances when as Leader of the Congress group in the Lok Sabha he was constantly undermined by Sonia in her capacity as Congress president during 1996-97.
Pawar, who was a minister in the Union government for 10 years when the United Progressive Alliance was headed by Gandhi, describes as "shocking" an amendment" to the Congress Parliamentary Party constitution in the early 1990s "solely" to make her the CPP leader, even without being elected to Parliament.
These are disclosed in a book 'Life on my terms-From the Grassroots and Corridors of Power', written by Pawar, which was formally released on Thursday night at a function in the presence of a galaxy of political leaders including Gandhi, Prime Minister Narendra Modi and the President and vice president to celebrate his 75th birthday on Saturday.
He says, "Self-styled' loyalists of 10, Janpath, where Gandhi resides, convinced Gandhi that it would be better to back Rao in 1991 as prime minister over him as the "Gandhi family was not about to let someone with independent mind" to get the top post, Sharad Pawar has claimed.
The loyalists including the late Arjun Singh, himself an aspirant for the prime minister's post played a "clever trick" to convince Sonia Gandhi in the decision to choose Rao over Pawar, says the NCP president, who became defence minister in Rao's cabinet.
He says that his name was considered for the top post in the party not only in Maharashtra but also in other states. He was personally more circumspect as he was aware that a lot depended on the inclination of 10 Janpath, where Sonia Gandhi resides.
"Though a senior leader, P V Narasimha Rao had withdrawn from mainstream politics for health reasons before the election. Given his long experience, there were suggestions to bring him back following the unforeseen exit of Rajiv," Pawar states in his book.
"Self styled loyalists of 10 Janpath started saying in private conversations that Sharad Pawar's election as prime minister would harm the First Family's interest in view of his young age.
"Woh Lambi Race Ka Ghoda Hoga' (He will hold the reins for a very long time), they argued. Among them who played a clever trick were M L Fotedar, R K Dhawan, Arjun Singh and V George.
"They convinced Sonia Gandhi that it would be safer for her to back Narasimha Rao because he was old and not in a good shape. Arjun Singh himself aspired to become prime minister and hoped to succeed Rao soon. Anyway, once Sonia Gandhi had bought the coterie's 'bring Rao' argument in 1991, the tide turned against me," Pawar says.
Rao was ultimately chosen over Pawar with a lead of over 35 votes. Later P C Alexander, a former principal secretary to Indira Gandhi and close confidant of the family, brokered a meeting between him and Rao with an offer of top three portfolios.
"He (Alexander) and I knew that I had been a strong contender but Gandhi family was not to let someone with independent mind to get to the prime minister's post," adds Pawar.
Giving instances of the nature of their relationship, Pawar says though he was among those few who invited her to become the Congress president, "There was little warmth between us. At the best our relations were cordial."
"She relied heavily on just two or three people for running the party. There was some uneasiness within the Congress that the party had won the maximum number of Lok Sabha seats from my home state Maharashtra."
Against this background, the "coterie" sought to drive a wedge between him and Gandhi by pointing out how he had "defied" Indira Gandhi to form the PDF government in Maharashtra in 1978.
"The so-called loyalists also drew their attention to the rebellion of some Congress ministers in my Cabinet against me in 1990, when I was Maharashtra's chief minister. The fact that the aborted rebellion was sponsored by Rajiv Gandhi meant that Rajiv too was unhappy with me, they argued. All this talk had desired effect," says Pawar.
Sonia did not say much but the "distrust" was evident. It also found reflections in her actions. "When she and I decided something, she would do exactly opposite. If I selected P C Chacko to open a debate on the party's behalf, she would replace him just because he was supposed to be close to me."
"What really took the cake was a shocking amendment to the Congress Parliamentary Party which was brought into effect solely to suit Sonia Gandhi. Though she was the Congress president, Sonia Gandhi was not an MP when I was a Lok Sabha member and CPP leader.
"Soon after she assumed the party reins, a meeting of the CPP was called while I was in Mumbai. A decision to amend the Constitution was taken. This was obviously done to remove the obstruction in Sonia Gandhi's path.
"I was deeply hurt by the decision. Never before in the Congress party's long history had a person become parliamentary party wing's chief without being a member of Parliament."
Pawar says he was a duly-elected member of the Lok Sabha and was therefore a natural claimant to the post of CPP leader.
"I also enjoyed the support of other members in the House. Yet I was now appointed by a person who was not even a member of the Parliament. This unfortunate development put almost too great a distance between Sonia Gandhi and me."
Pawar also says that there was a some awkwardness between Gandhi and him for reasons explained earlier but they had managed to strike a working relationship, focusing on her responsibilities as Congress president and him carrying out his role as the Leader of the Party in Lok Sabha. "Before the arrangement could stabilise, an incident occurred that broke my faith even in this working relationship.
"Committees comprising MPs of different political parties are an important element of parliamentary functioning. Depending upon every party's strength in the House, the party nominates members of various parliamentary committees. Following the Speaker's approval, the committees get constituted.
"As was the practice, I had a detailed discussion with Sonia Gandhi about Congress nominees for parliamentary committees. After we finalised the names, I had the list typed, got her consent and got it sent to the Speaker of Lok Sabha. The next day, Speaker G M C Balayogi called me over to his office. 'There is a problem', he said. 'I have in front of me two lists from your party'. I was flummoxed."
The late Balayogi explained that after he had received a list of names from Pawar, the Congress Chief Whip P J Kurien sent him another list. There was a disparity in the two lists.
As Leader of the Congress in the Lok Sabha, sending the official list to the Speaker was "my prerogative". However, it was the internal issue of the party and so he did not discuss it with the Speaker.
"There seems to be communication gap. I shall revert to you after sorting it out,' I said. When I confronted Kurien about the second list he clarified that the list was prepared as instructed by the Congress president."
"I sought a meeting with the Congress president. 'You and I had a detailed discussion before we finalised the Congress nominees for various parliamentary committees. I submitted the list to the Speaker after you approved it. But the Speaker has now received another list from our party. We need to recall one list. Please ask Kurien to withdraw the list he submitted,' I said."
Pawar recalls Gandhi told him calmly, "You may withdraw your list".
"This was not acceptable to me. I was the Leader of the party in Lok Sabha and I had completed all the formalities before submitting our list.
"Asking me to withdraw the list after all this amounted to a devaluation of the position I held. It was just not right. The incident made me wonder how long I would be work in the party," he says.