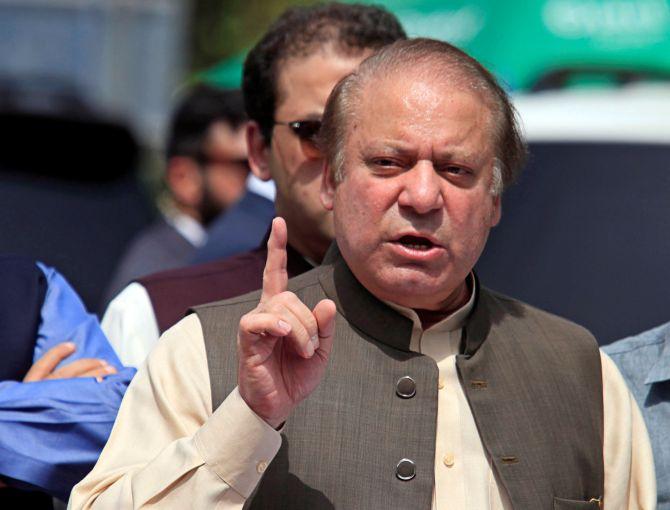 A defiant former Prime Minister Nawaz Sharif has declared that he was leaving behind his ailing wife in London in Allah's protection and returning to Pakistan regardless of whether he was "taken to prison or gallows".
Sharif, who is in London to tend to his ailing wife Kulsoom, is expected to return to Pakistan tomorrow, days after being sentenced to 11 years in prison by an anti-corruption court in the Avenfield properties case, one of the three corruption cases against him following the Panama Papers scandal.
Addressing a news conference alongwith his daughter Maryam Nawaz yesteday, the supremo of the Pakistan Muslim League-Nawaz party said that he wished to see his wife opening her eyes again, requesting the nation to pray for her speedy recovery.
He said that he was returning "despite seeing a prison cell in front of him" and was saddened that he was leaving his wife behind on ventilator.
"I am returning to fulfill the promise of giving respect to vote," the 68-year-old three-time premier said.
Sharif said he would not stop now regardless of whether he was "taken to prison or gallows."
Sharif was sentenced to 11 years in prison for corrupt practices linked to his family's purchase of four posh London flats, in a major blow to his PML-Nawaz party ahead of general elections on July 25.
The Sharif family is now facing two more corruption cases in the accountability court — Al-Azizia Steel Mills and Flagship Investments — in which they are accused of money laundering, tax evasion and hiding offshore assets.
Commenting on the Avenfield case judgement, Sharif said that it was written in the verdict that he had been absolved of corruption charges.
"It had to be written in the verdict that no evidence of corruption could be found against me," he said. "Is there any Pakistani whose three generations had to face such sort of accountability?"
Sharif said the Pakistani people once again saw the "real face" of justice. "Having searched in several countries of the world, it had to be written that there was no evidence of corruption [against me]."
He maintained that he respected every institution of Pakistan, noting that he made the country a nuclear-capable state in 1998.
Sharif also took a jibe at former Pakistan President Asif Ali Zardari and others who said that he will not return from London.
"Those putting me on the Exit Control List should know that I am coming back, there are those who said that I will not be coming back to Pakistan, some said I will be taking political asylum but all of them were wrong, I and Maryam are coming back. This is my message to them that I am not the one who runs away," he said.
Sharif said that former dictator Gen. Pervez Musharraf, who abrogated the constitution of Pakistan twice, remains at large and no one has the power to bring him back.
"I'm coming to pay off the debt of the nation that thrice elected me the prime minister," he said.
Sharif said that decision to disqualify him, his daughter and his son-in-law Captain Safdar was "made somewhere else".
"My enemies have gone after my family despite the fact the Joint Investigation Team head said that he found no corruption in investigations, the judge cleared us of any corruption, my daughter has been convicted who has never held a public office in her life. This is the height of revenge," said Sharif.
Maryam Nawaz, 44, seen as the political heir of Sharif, said that going back to Pakistan "to go to prison was the most difficult decision of our lives because my mother is on the ventilator and we don't know what happens next, their is no pain like that of leaving your mother behind in such situation but there's a national duty and we must make this important journey".
She said that her family has faced more than 100 court appearances on "bogus" charges following the Panama Papers case.
Maryam said that Pakistan was standing at an important juncture and "these are defining times".
Authorities arrange helicopters to shift Sharif to jail; 300 PML-N workers arrested
Over 300 PML-N workers and leaders have been detained in Pakistan in a massive crackdown on the party activists in Lahore ahead of the arrival of Sharif, who would be arrested along with his daughter and transported to jail via a helicopter.
Sharif and his daughter Maryam will arrive in Lahore via Abu Dhabi at 6.15 pm (local time) on Friday.
The anti-graft body -- National Accountability Bureau -- chairman Javed Iqbal has ordered taking all necessary measures to arrest Sharif and Maryam upon their arrival at the airport.
He has also formed a 16-member team to arrest them and shift them to Adiala Jail Rawalpindi after producing them at the accountability court that sentenced the father-daughter duo last week.
According to sources, the Cabinet Division has allocated two helicopters -- reserved for the prime minister -- to NAB to shift Sharif and his daughter to jail from the airport.
They said one helicopter would be at Lahore airport, while the other would be in Islamabad, and the father-daughter duo would be arrested upon landing at either of the two airports.
Deputy Inspector General Operations Shahzad Akbar said 10,000 police officers will be deployed across the city tomorrow to "maintain law and order".
The Anti-Riot Unit will be on alert, and the Dolphin Squad and the Police Response Unit will be deployed to sensitive areas of the city.
"No one will be allowed to take the law into their own hands," he said.
Lahore police has also placed containers on the city roads leading to the airport. A narrow passage has been left for motorists where police have been deployed for checking.
"Over 100 police commandos will be deployed at the airport on Friday to avert any untoward incident," senior Lahore police officer Sardar Asif said.
He said the police are taking only anti-social elements into custody ahead of Sharif's arrival. He said the arrested PML-N activists have been detained for 30 days under public order.
Pakistan Muslim League-Nawaz spokesperson Marriyum Aurenzeb told PTI that police have arrested over 300 PML-N workers mostly from Lahore to stop them from welcoming Sharif at the airport.
Such a massive crackdown on PML-N workers never happened even in the martial law regime, she said.
She said that despite all such tactics, the PML-N workers will reach the airport to give historic welcome to Sharif.
"We will not accept the results of the July 25 polls if pre-poll rigging is not stopped. The Election Commission of Pakistan must act and order release of our detained workers forthwith. Otherwise, we will understand that both the ECP and caretaker government are puppet and someone else is calling the shots (establishment)," PML-N president Shahbaz Sharif told reporters, in an apparent reference to the army.
The powerful army, which enjoys considerable influence over policy decisions in Pakistan, has ruled the country for much of its life since it gained independence 70 years ago.
Shahbaz further said that PML-N opponents are given full liberty to hold rallies while section 144 has been imposed in Lahore only to stop the PML-N workers from receiving their leader.
"I will lead Friday's party rally to receive my elder brother and niece. If I am or my sons are arrested then my daughters will lead the rally," he declared.
© Copyright 2022 PTI. All rights reserved. Republication or redistribution of PTI content, including by framing or similar means, is expressly prohibited without the prior written consent.