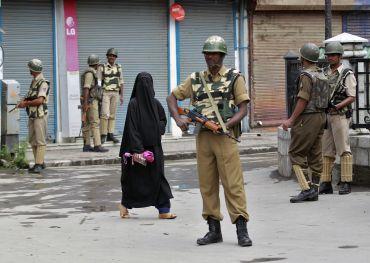 Authorities on Friday imposed strict restricts on the movement of people in old Srinagar city and Anantnag town in south Kashmir, fearing law and order problems over the anti-Islam video made in the US.
Restrictions under Section 144 CrPC, which bans assembly of four or more people, were imposed in five police station areas in the Old Srinagar City, police sources said.
Similar restrictions were also imposed in Anantnag town in south Kashmir, which has witnessed protests against anti-Islam video made in the US, the sources said.
A large posse of police and paramilitary personnel has been deployed in sensitive areas of the city and elsewhere in the Valley to maintain law and order, they said.
Although there was no call for a strike today, markets have remained closed elsewhere in the Valley while the public transport remained off the roads.
Hardline Hurriyat Conference leader Syed Ali Shah Geelani has called for peaceful protests after Friday congregation prayers against the acts of blasphemy. He has also called for abstention of work for two minutes at 11 am.
The state government has taken several steps to ensure peace in the Valley, including ordering closure of the all educational institutions.
The state government has also directed internet service providers and telecom service providers to take all measures, including blocking 'youtube' and facebook' if needed, to ensure the blasphemous anti-Islam video was not accessible to the subscribers in the state.
The order to this effect was issued by the state Home Department last evening, invoking the powers conferred under section 5(2) of the Indian Telegraph Act 1885.
Following the state government directive, there were large scale complaints of disruption in mobile internet services in the Valley.
The officials of the private telecom companies were not available for comment.
The state government on Thursday sent a reminder to the Union Information Technology Ministry to block all the URLs submitted to it as these carried the blasphemous video.
Image: Heavy police and paramilitary deployment has been put in place in Srinagar and Anantnag
Photograph: Fayaz Kabli/Reuters