Hundreds of passengers at the John F Kennedy International Airport were on Monday evacuated from at least two terminals following reports that multiple shots had been fired in one of the US' busiest airport, triggering scenes of panic and chaos.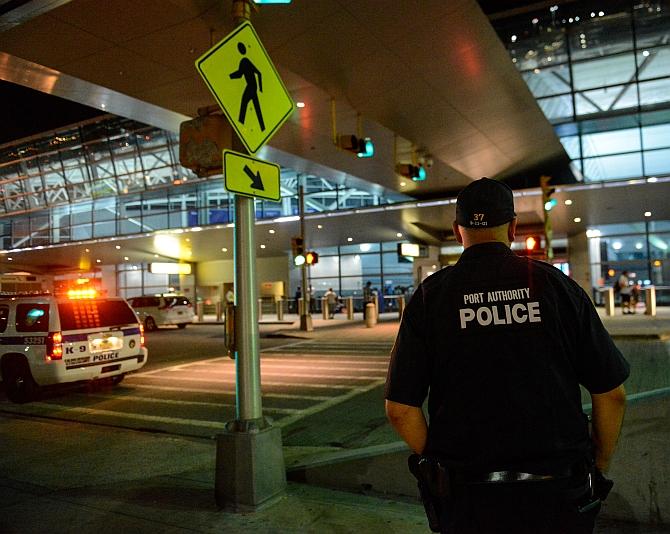 The Port Authority, which manages the city's airports, in an initial update said police had received reports of shots fired at Terminal 8 at JFK at about 9:30 pm local time on Sunday (7am IST), apparently near the departure area.
Just half an hour later, at about 10:15 pm (local time), Terminal 1 at New York's main airport was also "closed" after "additional" calls of shots fired were received.
The Port Authority said "the terminal was evacuated out of an abundance of caution" and there was "substantial presence" of New York Police Department at the John F Kennedy airport and LaGuardia airports as an investigation was launched.
Hundreds of travellers were evacuated from the terminals and several flights in and out of the airport were cancelled and diverted as a precautionary measure.
There were scenes of panic as authorities asked people to lie down and then asked them to evacuate.
However, after conducting a thorough search, police gave an all-"clear" and said emergency calls over shots at the airport were "unfounded".
"All terminals searched & cleared.Negative results. All affected terminals will resume operations shortly. No shots were fired," New York Police Department Chief of Special Operations Division Chief Harry Wedin tweeted.
Wedin said in an earlier tweet that police officials from New York City and the Port Authority, which also operates and manages airports in New Jersey, were clearing the departure areas at Terminal 1 and 8 at JFK.
"There is nobody shot. It appears that no shots have been fired," he said.
A preliminary investigation also showed no indication that shots were fired.
"Preliminary investigation does not indicate shots were fired at JFK. There are no injuries. At this time no gun shells or other evidence of shots fired has been found," the Port Authority said in a statement on its Twitter handle.
It also said that travellers should contact their carriers. It was not immediately known if there were any injuries or arrests as part of the incident.
Image: Members of the Port Authority Police Department stand guard at Terminal 8 at John F Kennedy airport in the Queens borough of New York City. Photograph: Stephanie Keith/Reuters