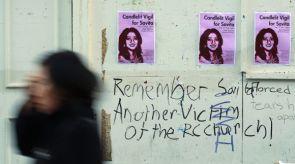 A key report on Indian dentist Savita Halappanavar's death in Ireland that is expected to make significant recommendations on abortion laws in the predominantly Catholic country is set to be published soon.
The report by a review group appointed by Ireland's Health Service Executive is also expected to make recommendations on the management of complicated obstetric emergencies, including sepsis which led to Savita's death at a Galway hospital last October.
"There was a brief discussion around the Savita Halappanavar report. It is due for publication in the coming days...before the end of the week," an Irish government spokesperson said following a Cabinet meeting chaired by minister for health James Reilly.
Savita had died of septicaemia in her 17th week of pregnancy at University Hospital Galway and an inquest into her death held in April heard that she had been denied a potentially life-saving termination on the grounds that Ireland is a "Catholic country".
Some experts believe the 31-year-old may have survived if the foetus had been aborted when she was found to be miscarrying.
The inquest concluded on April 19 and recorded a verdict of death as a result of medical misadventure.
According to local Irish media reports, the HSE report will incorporate information from Savita's husband Praveen, whose solicitor Gerard O'Donnell had finalised details with the inquiry team chaired by UK obstetrician Professor Sabaratnam Arulkumaran.
O'Donnell, however, said he was "surprised" to hear that the report would be published within days because his client was yet to see the final document.
The young widower had also called for a meeting with the health minister before the report was made public.
"We haven't seen the final report yet and would expect that we would be given that opportunity before it is published," O'Donnell said.
"It was our understanding that we would receive a copy of it before it went to cabinet," he said.
Lawyers for the HSE have reportedly scrutinised the document in recent weeks to minimise the risk of legal proceedings arising from its contents.