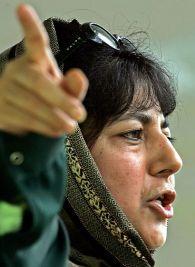 Peoples Democratic Party chief Mehbooba Mufti on Wednesday appealed to Union Home Minister Sushil Kumar Shinde to remove the Central Reserve Police Force camp at Gagran in Shopian district where four persons were killed in firing by the force personnel on Saturday.
"I appeal to the Union home minister to accept the people's demand for removal of the CRPF camp at Gagran," she told reporters in Srinagar.
Mehbooba said she would not appeal to Chief Minister Omar Abdullah as he had expressed helplessness time and again over such issues. "(However), we give two days' time to the government to lodge a first information report based on complaints of the family members of the slain youth," she said.
Asked about the next course of action if the FIR was not lodged, Mehbooba said, "We will do whatever is within our means and democratically possible." The PDP leader said incidents like Shopian were alienating the youth which seems to be part of a design to make people helpless.
"It seems to be a design to keep people away from elections and democratic process like has been done in Srinagar," she said.
Earlier in the day, the police detained Mehbooba as she was heading towards Shopian district to meet the families of the youth killed in CRPF firing. "Mehbooba was taken into custody by the police at Pulwama town," PDP chief spokesman Naeem Akhtar told PTI.