'We have petitioned the district collector and MEA to put pressure on the Saudis for compensation, but nothing has happened.'
A Ganesh Nadar/Rediff.com travels to Vellore to report on the plight of Kasthuri Munirathinam, who lost an arm while working in Saudi Arabia.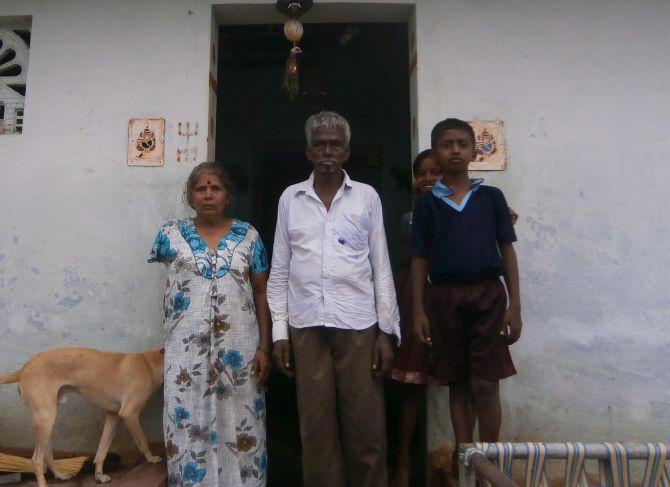 It has been eight months since she returned from Saudi Arabia and life has only gotten worse for Kasthuri Munirathinam.
Back minus an arm, she lives in her daughter's home in Mungileri village, 130 km from Chennai, where things seem bleaker than they had been.
She had been a year away from retirement when she decided to go to Saudi Arabia and work as a house maid. A washerman's wife in the neighbouring village had taken up a job in Dubai, and that family showed visible material benefits.
This inspired Kasthuri to give it a shot even though no one from her village worked anywhere in the Middle East.
She had borrowed heavily to get her two daughters married off, the debt weighed on her, and the family had no house of their own. Her husband is an invalid, and both her sons-in-law are, well, unemployable.
Considering all this, it made sense for the Class 9 pass Kasthuri to take up a job abroad and pay off all her debts.
"I had no house and lots of debts, so I decided to go to the Middle East," she says. "I had a passport. I had got it made many years ago to go to Malaysia to attend a marriage. The agent told me he would get me a two-year working visa, but it was actually a three-month tourist visa. He told me he would send me to Dubai, but sent me to Saudi Arabia instead."
Mungileri in Tamil Nadu's Vellore district is a village dotted with small houses. There are no large houses to be seen here, only a huge factory at the entrance to the village. Kasthuri felt the money she earned abroad could help the family build a house and live with dignity.
So she went to Saudi Arabia last year and after working there for two months realised that what she had hoped would be a dream was in fact a nightmare.
"I did not like my employer," she recalls. "They were abusive and did not even give me enough to eat. I tried to talk to Tamils there to help me get back home, but no one was willing to help. Everyone is scared of their employers."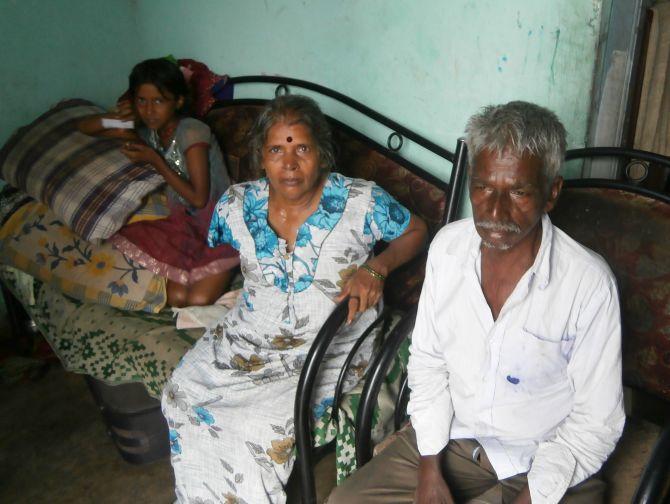 One day last September she tried to escape from her employer's home by climbing down from the balcony.
"I got scared that they would physically harm me, so I tied my sari to the balcony railing and climbed down. I heard a loud sound and fell down. I thought someone had cut off my arm, but I don't remember seeing anyone," she says, through tears.
No one knows what exactly happened, but she ended up losing her right hand which was cut clean at the shoulder.
Regaining consciousness in the hospital, Kasthuri realised she had lost her right hand. Doctors took down her statement, the police came, but did not talk to her. She was treated for her hip injuries and the severed hand. A metal plate was implanted in her hip. She says she cannot sit continuously for a long time.
"The government hospital in Chennai gave me a rubber arm, it was useless, so I took it off," she says, showing me the prosthetic arm. "I eat with my left hand, I do everything with this hand, I have to," and the tears start to flow again.
She was flown back to the country by the Indian embassy, with two months of salary. Tamil Nadu Chief Minister J Jayalalithaa announced a Rs 10 lakh (Rs 1 million) grant for her. "I did not meet Amma, her officials met me," she says.
The money was invested in a Tamil Nadu government concern and she gets Rs 8,333 a month as interest that goes straight into her bank account. "I cannot take out the money," she says, "after I die my children will not get the interest."
Since her return to India, the Indian embassy in Saudi Arabia has not contacted her, nor have the Saudi police. She has no clue about what happened to her case. Her son Mohan, who works in a vegetable market in Chennai, told Rediff.com, "I have petitioned the district collector and the ministry for external affairs to put pressure on the Saudis for compensation, but nothing has happened."
Kasthuri currently lives in her daughter's home with husband Munirathinam, their son, his wife, his two children, her daughter and her daughter's three children.
She says she has loans of Rs 25 lakhs (Rs 2.5 million) to pay off. "I used to roll bidis," she says, "and now I cannot do even that anymore."
IMAGES: Kasthuri Munirathinam with her family in Mungileri village, Tamil Nadu. Photographs: A Ganesh Nadar/Rediff.com