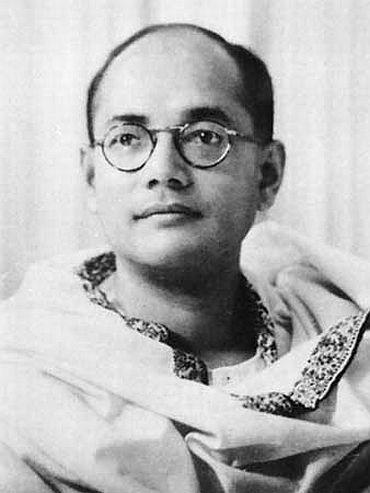 Were the remains of Netaji Subhash Chandra Bose brought back from Japan to India under intimation of Prime Minister Manmohan Singh in 2006?
Nearly 65 years after being presumed dead in a plane crash in Taiwan, a new controversy about the remains of Netaji Subhash Chandra Bose seems to be brewing as Prime Minister's Office has denied having any information that his remains were brought from Japan to India as mentioned in a recent book on the life of the leader by his relative.
The fiery leader, who founded the Indian National Army to liberate the country from British rule, is presumed to have died in a plane crash in Taiwan on August 18, 1945 en-route to Tokyo under mysterious circumstances. His alleged remains have been kept in the Renkoji Temple in Tokyo, Japan since then.
Recently, Harvard University Professor Sugata Bose, also a relative of the INA founder, in his recent book His Majesty's Opponent mentioned two significant points in the footnotes of the last chapter A Life Immortal.
It mentions that the founder of the Indian Independence League in Tokyo, Rama Murti had hidden a portion of alleged cremated remains of Bose as "extra precaution" in his house and secondly, this portion has been brought to India in 2006 and Prime Minister was informed about the development.
Citing these foot-notes, an RTI applicant Chandrachur Ghose sought to know from the PMO whether the information that the leader's ashes were brought from Japan is true or not.
Replying to his queries, the PMO said, "As per records, no such information exists."
The efforts to contact author Sugata Bose did not fructify despite repeated emails to his official email-id.
"According to the Murti family, as an extra precaution, Rama Murti divided up the cremated remains and hid a portion in his home. This is stated by his nephew Anand J Murti in a signed affidavit attested by the embassy of India in Tokyo, dated August 18, 2008," the footnote states.
Another such note mentions, "Manoj Mukherjee, Report of the Commission; Parliamentary Proceedings, 2006. The portion of Netaji's mortal remains kept in the Murti home was brought back to India in March 2006, in consultation with Netaji's daughter Anita, and the Prime Minister of India was informed of this development. The urn preserved in the Renko-Ji Temple has not yet (as of 2010) brought back to India."
"The timing of this hush-hush transfer (of remains) is suspicious because it happened just before Mukherjee Commission report into the controversy surrounding Netaji's death was made public," Ghose's colleague Anuj Dhar, who had obtained information from the government of Taiwan that no plane carrying Bose had ever crashed there, said.
The Mukherjee Commission report tabled in the Parliament on May 17, 2006 concluded that Bose had not died in Taiwan and the Renko-ji remains were actually of a Japanese solider.
The report was however rejected by the Congress-led government.