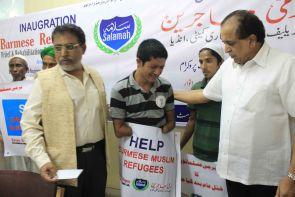 Heart rending scenes were witnessed at a meeting of Rohingya Muslim refugees in Hyderabad as a local Muslim organisation held a meeting to launch the Burmese Refugees Relief and Rehabilitation Committee, India.
Noor Kamal, a young refugee from Mobedan in Arakan region of Myanmaar was the focus of attention as he has lost both his hands in the ethnic violence while another refugee Mustafeez Rahman lost his leg.
The refugees wept uncontrollably as a video film of the brutal violence, massacre and burning of their houses was shown on the occasion. "This is how we are being treated by Buddhist with the backing of their government and army," said Noor Kamal.
The video also had the clippings of army shooting unarmed civilians in captivity.
The initiative to help the Burmese Muslims was taken by Hyderabad based Salamah Education and Welfare Trust, which involves prominent people.
"More than 1,400 Burmese refugees have taken shelter in Hyderabad over the last one year. Their numbers have swelled as ethnic cleansing was continuing in Burma," said Manzoor Ahmad, secretary of the committee.
Nazimuddin Farooqi, a prominent builder and president of the committee has visited several other Indian cities including Delhi to assess the condition of the refugees and to organise relief for them.
"Our effort is to ensure they get some kind of livelihood and medical facilities, and their children go to school. In Hyderabad we will provide the children hostel facilities so they can get proper education," said Manzoor Ahmad.
The relief committee has been working with various other organisations and individuals to mobilise resources for the relief of the refugees. It has drawn a two-year program to provide help including self-employment courses for the able male members. As some of the refugees were arrested in West Bengal while trying to cross in to India, the committee has been trying to provide legal assistance to them.
The committee has urged people to come forward to extend a helping hand to these displaced people.
Image: Noor Kamal, a refugee from Mobedan in Myanmar, who lost both his hands in ethnic violence, was one of the several Burmese refugees who attended the function in Hyderabad.
Photograph: Snaps India