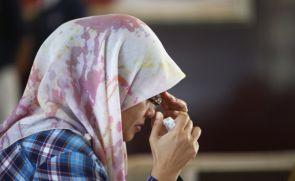 Malaysia Airlines on Tuesday began shifting relatives of missing Chinese and Indian passengers to Kuala Lumpur for "better care and comfort" while China pressed more ships and aircraft to locate the plane that went missing four days ago.
The Beijing-bound flight with 227 passengers and 12 member crew aboard disappeared on Saturday after taking off from Kuala Lumpur. Passengers included 154 Chinese and five Indians.
After keeping the relatives at a hotel here for the last three days, Malaysian Airlines is flying them, two members of each family, to its headquarters in Kuala Lumpur.
The first batch carrying a number of relatives including the kin of two missing Indian passengers reportedly flown to Kuala Lumpur by a chartered flight.
Samved Kolekar, whose father, mother and brother, were travelling on MH370 flight left for Kuala Lumpur. Another Indian, Pralhad Shirshath, whose wife was on board the missing jet was also taken to the Malaysian capital, official media said.
Besides, the airline provided USD 5,000 for each of the families as maintenance allowance until the whereabouts of the plane are detected.
China, under pressure as majority of the passengers are its citizens, pressed more ships and planes to help search and rescue operations.
China has pressed in nine ships and besides number of aircraft for the search operations, Foreign Ministry spokesman Qin Gang told media.
It deployed 10 satellites to keep a watch in the areas where the plane reported to have gone missing. China also sent a team to Kuala Lumpur to coordinate with the Malaysian officials.
Image: Arni Marlina, 36, a family member of a passenger onboard the missing Malaysia Airlines flight MH370, cries at a hotel in Putrajaya.
Photographs: Samsul Said/Reuters