A relative of the family suspected foul play in the incident, saying that 'they were educated people and not superstitious'.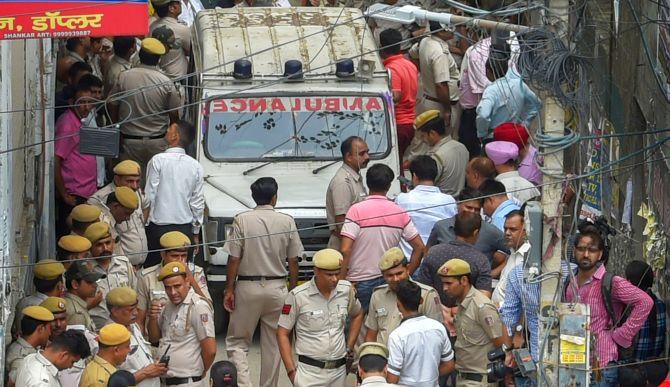 The post-mortem examination of eight of the 11 people, who were found dead at their house in north Delhi's Burari, has revealed there were no signs of struggle and all of them died as a result of hanging, a senior police officer said on Monday.
Eleven members of a family, including seven women and two children, were found dead under mysterious circumstances at their residence on Sunday.
The post-mortem of eight persons, including the two children and their grandmother Narayan Devi, has been carried out and so far, police have not found any signs of strangulation or scuffle, according to the officer.
Earlier, it was suspected that Narayan died due to strangulation. But doctors have said that she had died due to "partial hanging", the officer said, adding that a rope was found hanging near her body.
It is being probed who took out the rope from her neck, he said.
"From initial examination it seems that they all died due to ante-mortem hanging. The final report is awaited," the officer said.
Police suspects that the deaths were part of a suicide pact, carried out in accordance with a religious practice, as handwritten notes found on the spot indicated.
Some of the notes stated that 'one will not die' but attain something 'great', the officer said.
Meanwhile, a relative of the family suspected foul play in the incident, saying that 'they were educated people and not superstitious'.
Ketan Nagpal, whose maternal grandmother was one of the deceased, alleged that they were killed and dismissed the police theory that it could be a case of 'suicide pact'. He said it was a prosperous family.
"They were not facing any financial issues and had not taken even a single loan. Everything was fine. Why would they kill themselves?" he said.
Nagpal contended that even if they had to commit suicide, they would not have covered their faces and taped their mouth.
Another relative said they had spoken to the family on Saturday night. They sounded 'normal' and did not show any signs of depression, he added.
"The family did not have enmity with anyone. But we suspect someone killed them," he alleged.
The relatives claimed that there was no 'religious angle' linked to the deaths.
"They believed in God but who believes in such things (referring to handwritten notes talking about salvation). They were educated people and not superstitious," said one of the relatives.
Police found handwritten notes which indicated a 'religious or spiritual angle' to the deaths. A police officer said a probe will be conducted to find 'if the family indulged in occult practices' or they followed 'any godman'.
Apart from 77-year-old Narayan Devi, the deceased were identified as Devi's daughter Pratibha, 57, her two sons Bhavnesh, 50, and Lalit Bhatia, 45. Bhavnesh's wife Savita, 48, and their three children -- Meenu, 23, Nidhi, 25, and Dhruv, 15.
Meenu was preparing for entrance exams and also took tuitions, locals said. Nidhi was pursuing her Masters. The sisters would also take care of the shop sometimes.
Lalit Bhatia's wife Tina, 42, and their 15-year-old son Shivam were also among those found dead.
Pratibha's daughter Priyanka, 33, who was engaged last month and would have married by the end of this year, was also found hanging.
A friend of Shivam and Dhruv said he had seen them playing cricket on Saturday night.
The 15-year-old boys were Class 9 students of Virendra Public School, their friend Jatin said.
He said, "I saw them playing last night. Bhavnesh uncle was happy seeing them. It is hard to believe they are not here with us."
Devesh Malik, one of the neighbours of the family, said their children were finding it hard to come to terms with what had happened.
"Our children are scared. They are not able to gauge what has happened," he added.
10 of those dead were found hanging from an iron-mesh in the ceiling for ventilation, while the body of Narayan Devi was lying on the floor in another room of the house, the police said.
Those who were found hanging had their mouth taped and their faces covered with cloth pieces cut from a single bedsheet. Devi was without a blindfold and had been allegedly strangled.