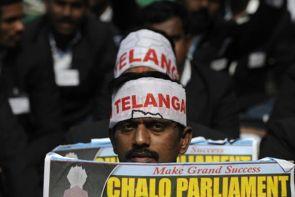 The Bharatiya Janata Party is wanting for the Telangana Bill to be referred to the Standing Committee of Home Affairs before it is introduced in the Lok Sabha. It also plans to write to the Speaker if the House Meira Kumar on the issue.
BJP will finalise its strategy in its Parliamentary Party, said a senior BJP leader.
The BJP says that the United Progressive Alliance government cannot force the T-bill through to suit its logic, bypassing an institutional mechanism of all party MPs debating it in the Standing Committee.
Incidentally, BJP leader M Venkaiah Naidu is the chairman of Home Committee.
The BJP now wants to adopt this route to scuttle the Telangana Bill.