Rajasthan minister Parsadi Lal Meena on Tuesday took a jibe at Congress leader Sachin Pilot and said that the party had not won a single seat in the state in 2014 and 2019 Lok Sabha elections under his presidentship.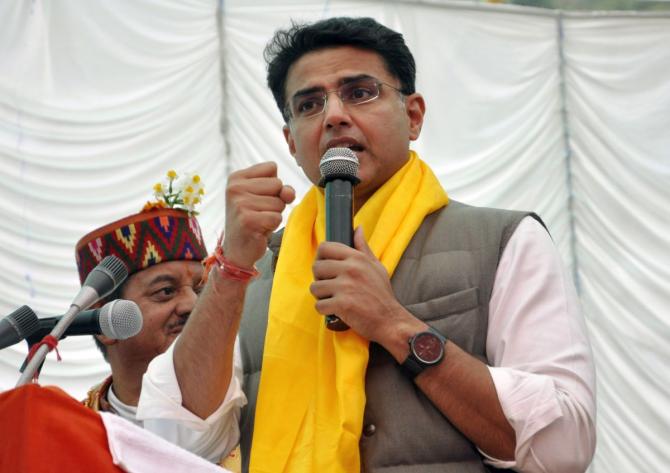 The minister, however, said that the win or loss does not belong to a specific person and it is the decision of the public to elect a particular candidate.
"Do not talk about the role of a person specific. If loss belongs to the party, a win is also of the party. They talk about Sachin Pilot. How many MPs were elected in 2014, and 2019? Who was the party president? Nobody talks about zero. Why did our MPs reduce to zero in 2014 and 2019? We had our government then. It is the decision of the public. Why should we throw it on others that it happened because of him? The public keeps changing its decision," Meena said.
"The party has won 156 seats under the chairmanship of Ashok Gehlot. Who was the party president then?" he added.
The minister's remarks came at a time when the party is gearing up for the assembly elections later this year.
The party is looking to retain its government in the state in the run-up to the 2024 Lok Sabha elections to avoid its third consecutive wipe-off in the state.
Earlier in January this year, Sachin Pilot had taken an apparent jibe at Chief Minister Ashok Gehlot calling the paper leak cases an act of 'witchcraft'.
Without naming Gehlot, Pilot said that it was 'witchcraft' that the papers which were locked in vault before exams, got leaked.
Notably, Gehlot is often referred to as a 'magician' in Congress.
"Everyone is saddened when a paper gets leaked. I welcome the action being taken against those who are caught in this matter. But when such incidents take place repeatedly, responsibilities have to be fixed. It is said that no official or leader was involved in this. The question paper is locked in the vault. Being locked in the vault, the paper reached out to the students, it is witchcraft.
"How can this happen? It is not possible," Pilot said while addressing a gathering.
This comes after Gehlot responded to the allegation of Pilot earlier that there was an involvement of officials in the case.
Gehlot had asked Pilot to share the names of those involved in the matter.
Stepping up the attack, Pilot also questioned the political appointments being given to the retiring officers and said that the workers who work hard to bring the party to power should be given a first chance.