Members of Parliament Local Area Development Scheme (MPLADS) was formulated by the government of India in 1993. Under the scheme money is allotted to MPs to spend, as they see fit, on public works in their constituencies.
Under MPLADS, the role of the MPs is limited only up to the recommendation of works. Thereafter, it is the responsibility of the district authority to sanction, execute and complete it within the stipulated time period.
The annual allocation for MPs under MPLADS has increased over the years 1993-94 to 2011-12 from Rs 50 lakh (Rs 5 million) to Rs 5 crore (Rs 50 million) per annum.
Each constituency is entitled to get Rs 20 crore during the period of five years.
Rediff Labs analysed the data on MPLADS to see how the money given to each constituency was spent.
The above map shows the amount (in crores) recommended by MPs for various works in their constituencies during 2014-2018, ie the current Lok Sabha.
In some of the constituencies, the amount recommended by the MP is higher than the amount for which the constituency is entitled to. The district authority can sanction an amount lower or higher than the recommended one.
For example, in Hajipur, Bihar the amount recommended by the MP was around Rs 67 crore, while the amount sanctioned by the district authority was Rs 23 crore.
Whereas in other constituencies, the amount recommended by the MP was much lesser than the entitled amount. For example, in Alwar , Rajasthan, the MP recommended around Rs 34 lakh for various development works, while the constituency is entitled to a maximum of Rs 20 crore.
The above map shows the percentage of expenditure incurred by district authorities since 2014. This percentage helps us understand how much of the sanctioned amount was spend on works recommended under MPLADS.
In most of the constituencies the amount was fully utilised for the MPLADS works. In constituencies like Jhanjharpur and Purvi Champaran of Bihar and Mahesana of Gujarat, the amount available with the district authority was fully utilised. At the same time, in constituencies like Tripura east in Tripura and Alwar in Rajasthan, only 1-2 per cent of the amount was utilised.
The above map shows us the overall focus of a particular state and how much each state spends on different sectors like education, drinking water facility, health and family welfare, electricity and irrigation under MPLADS.
The states like Andhra Pradesh, Telangana, Rajasthan, Madhya Pradesh, Punjab and West Bengal spend more on drinking water facility. While states like Tamil Nadu, Maharashtra, Haryana, Himachal Pradesh and Jammu and Kashmir spend more on electricity.
States like Kerala, Karnataka, Odisha, Chhattisgarh, Uttar Pradesh, Rajasthan, Meghalaya and Assam spend more on education. While Bihar is highly focussed on improving health and family welfare and Sikkim on irrigation facilities.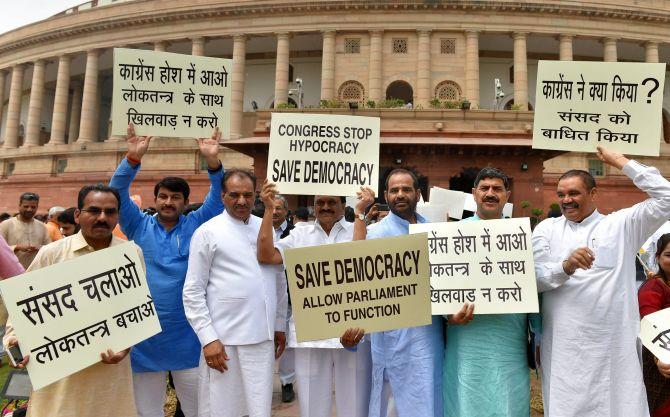 For more data stories go to Rediff Labs