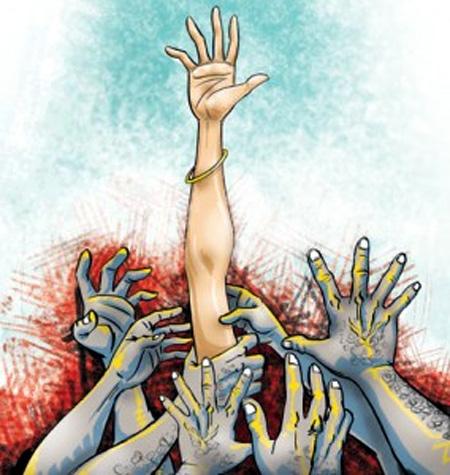 A state that has the highest literacy rate and excellent social development indicators also has high incidence of crime against women. There were lot Jishas, law student who was raped and murdered, in past decade.
Rediff Labs analysed Kerala state's number of crime against women under different crime heads such as rape, kidnapping, assault to outrage her modesty, dowry deaths, immoral traffic for the last 10 years. The data is taken from National Crime Records Bureau of India which has the reported number of crimes in each state. The above chart explains the rate of crime under each crime heads.
The rate of crime is the Incidence of crime against women per lakh female population.
In the past 10 years, the rate of crimes has been increasing, but in the year 2011 the crime rates suddenly skyrocketed. The number of rape increased from 2 per lakh females in 2011 to 8 per lakh females in 2014. At the same time, the number of assault on women with intent to outrage her modesty increased from 8 per lakh females in 2011 to 24 per lakh female in 2014.
The above map shows the total number of crimes against women in cities of Kerala in the year of 2015.
The data is taken from the official website of the Kerala police. Thiruvananthapuram stands in the first place with 1,649 reported crimes against women, Malappuram stands in the second place with 1,474, and Thirssur with 1,378 reported crimes in the third. Pathanamthitta and Kottayam have the lowest number of reported crimes against women comparing to other cities in Kerala.

What is happening with God's own country is really terrible. When will the government do something to control the crime numbers?