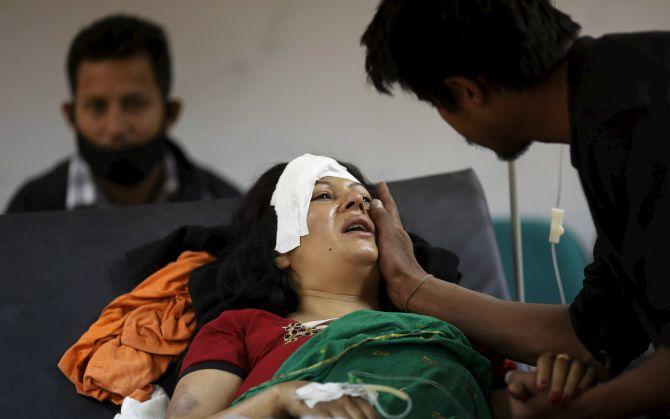 A boy comforts his mother who was injured during an earthquake, at a trauma center in Kathmandu, Nepal. Photograph: Adnan Abidi/Reuters
Survivors of the devastating earthquake in Nepal that killed over 2,000 people had horrific tales of the nature's fury that reduced houses, temples and historical monuments to rubble as they struggled for basic necessities of shelter, food and sanitation.
Thousands of people were displaced as the powerful 7.9-magnitude temblor jolted the Himalayan nation, with roads developing huge cracks and flattening old buildings, forcing them to spend the night under the open sky in chilly weather.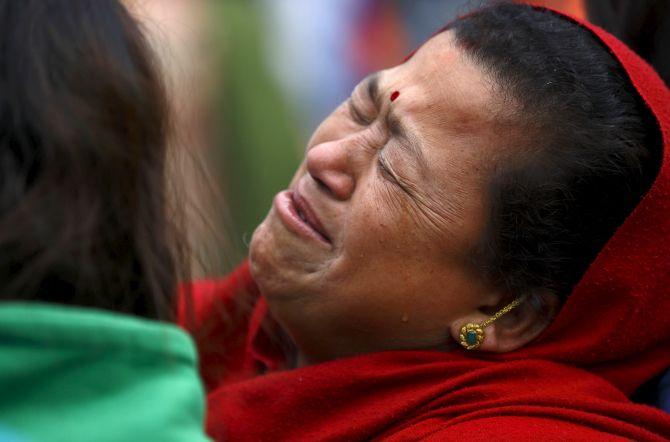 A woman mourns the death of a family member a day after an earthquake in Bhaktapur, Nepal. Photograph: Navesh Chitrakar/Reuters
Although the aftershocks remained milder, the people could not sleep.
A large number of Indians, including many workers who visit the neighbouring country, said they were faced with basic problems like food and sanitation.
"We are very shocked to see what happened here yesterday. It was very sad... My whole family is suffering as there is no food, water and almost all shops are closed," said one of the labourers, who had come from Kolkata.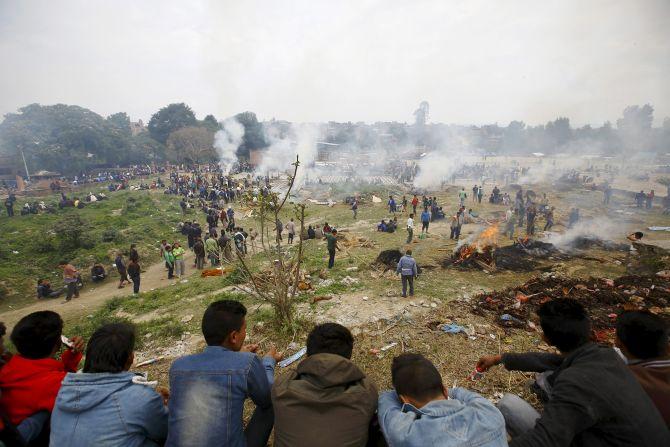 People cremate the bodies of the victims of an earthquake in Bhaktapur, Nepal. Photograph: Navesh Chitrakar/Reuters
"At least 500-1,000 workers have come here and yes, we all want to go back. We have no idea how to go back home as there is no information because electricity is cut off. We know some rescue planes have flown from India, we are trying to reach to them and go back home," he said.
Over 550 Indians have been evacuated by the Indian Air Force as India stepped up relief and rescue mission.
"We all work here and go back to India almost in a year. We really want to go back as we are not able to talk to our family back home as there is lot of connection problem," said another, who also hails from Kolkata.
Thomas Nybo, a freelance photographer, was sitting in a coffee shop in Kathmandu's Thamel district and to him, it appeared to be a minor tremor at first but gradually gained intensity.
"This region is no stranger to earthquakes. A lot of people had the same feeling: This is a tremor, it passed. When that wasn't the case, they were in uncharted territory... It's basically an unwritten book," he told CNN.
Thousands poured onto the streets of the densely populated tourist hub, he said, adding that he spotted a woman who was standing beside huge amount of rubble under which she said children were trapped.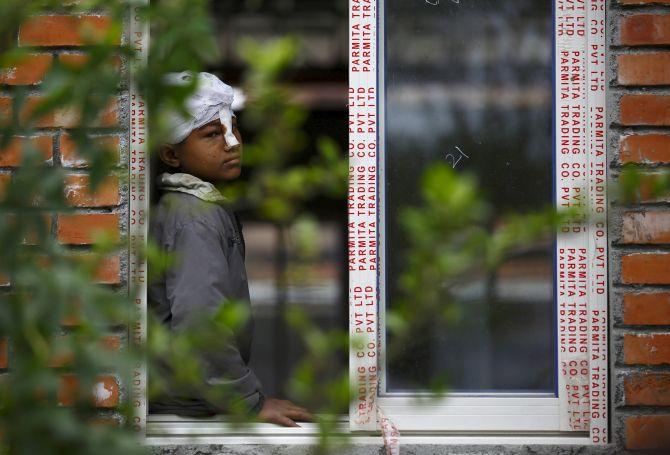 A boy injured in an earthquake looks out from the window of a hospital as bodies are brought in a day after the earthquake in Bhaktapur, Nepal. Photograph: Navesh Chitrakar/Reuters
"We ran over and ran around the rubble and couldn't hear anything. There was no chance that they survived," Nybo said.
Matthew Wojciechowski, 47, was in Kathmandu for a tattoo convention when the earthquake struck.
"I thought it was a very loud helicopter landing at first," he said.
Wojciechowski said he was walking towards the hall where the convention was being held when it struck, and he rushed towards it to find his girlfriend who was inside.
"People were stampeding and stepping over each other regardless of age. It was shocking to see people so frantic," he said.
A local who was near the Dharhara tower recalled how the iconic tower shook and then fell off.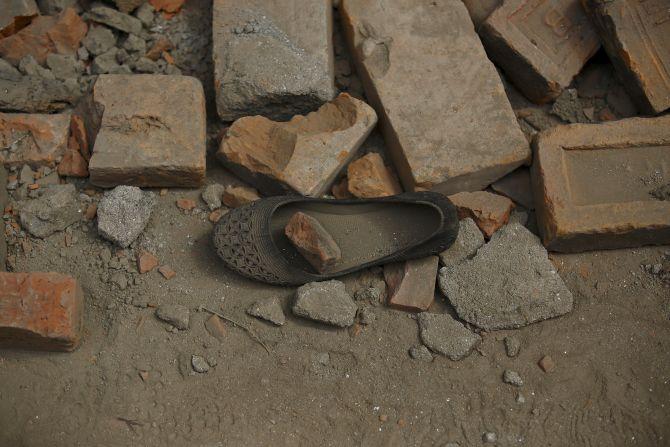 A woman's shoe lies among the debris of a collapsed house a day after an earthquake in Bhaktapur, Nepal. Photograph: Navesh Chitrakar/Reuters
"I was around 500 metres away when it shook initially and then fell off suddenly... There was dust all over and nothing was visible. There were a lot of people inside the tower as it was a holiday... Many tourists were also there," he said.
P Shrestha, a police official, said nearly 200 people had bought the tickets for the historical Dharhara tower.
Another local said they have been directed by authorities to stay out of their homes for 72 hours though unofficially and will stay out of the homes on Sunday too.
Hospitals in Nepal are struggling to accommodate the number of injured that is running into thousands. People have been lying scattered on the floor and even on the ground outside and receiving treatment.