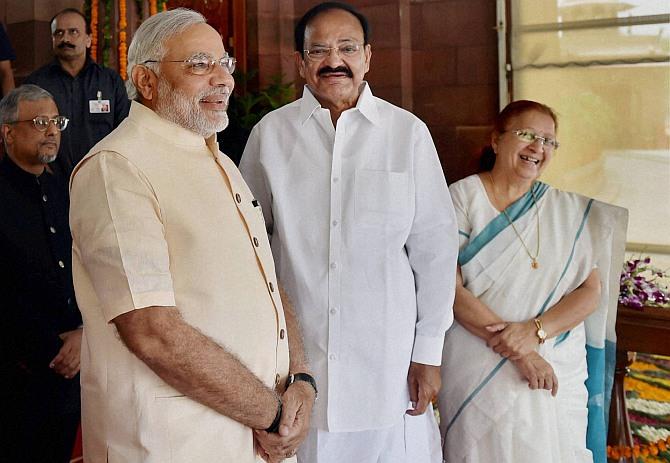 The Budget session of Parliament, the first of the Narendra Modi government, ended on Thursday reflecting the changed political reality with fewer disruptions and adjournments, and more debates and discussions unlike in the recent past.

Here are 13 reasons why we should cheer Narendra Modi sarkar's first Parliament session:

* The stark contrast between the functioning of the new Lok Sabha and the earlier one could be gauged from the fact that this time the House ran for 167 hours as against 19 hours and 36 minutes during the budget session of 2013.

* The highlights of the month-long session were the passage of the landmark National Judicial Appointments Commission bill and the SEBI bill.

* Several other bills were passed in Parliament, including the one seeking to clear legal hurdles in the appointment of former TRAI chief Nripendra Misra as Principal Secretary to the Prime Minister.

* Parliament also cleared the budget for Delhi, which is currently under President's rule. In the Lok Sabha, a total of 13 bills were passed.

* Before the passage of the Finance Bill, the Lok Sabha scrutinised the demands for grants
of four ministries unlike in the recent years where the sessions were marred by disruptions.
* The Rajya worked for 142 hours spread over 27 days.
* Although the Lok Sabha lost about 14 hours due to disruptions but it more than made up by sitting extra for 28 hours and 10 minutes.
* In Rajya Sabha 34 hours were lost due to interruptions and adjournments but it was made up by late sittings and skipping lunch recess accounting for 38 hours.
* One of the highlights in the Lok Sabha was Rahul Gandhi entering the Well along with his Congress colleagues demanding discussion on communal violence in the country. The debate, which was taken up later, however remained inconclusive.
* The bill regarding appointment of judges in higher courts saw a rare cooperation with members transcending political barriers while supporting the legislation in both Houses.
* During the session as many as 540 starred questions were listed of which 126 were answered in the House. This showed that on an average, every day as many as 5 questions were answered -- a record in recent times.
* During the session, members discussed various issues including discrepancies in MNREGA, inflation, flood and drought situation in the country, situation in Gaza and issue of communal violence.
© Copyright 2021 PTI. All rights reserved. Republication or redistribution of PTI content, including by framing or similar means, is expressly prohibited without the prior written consent.