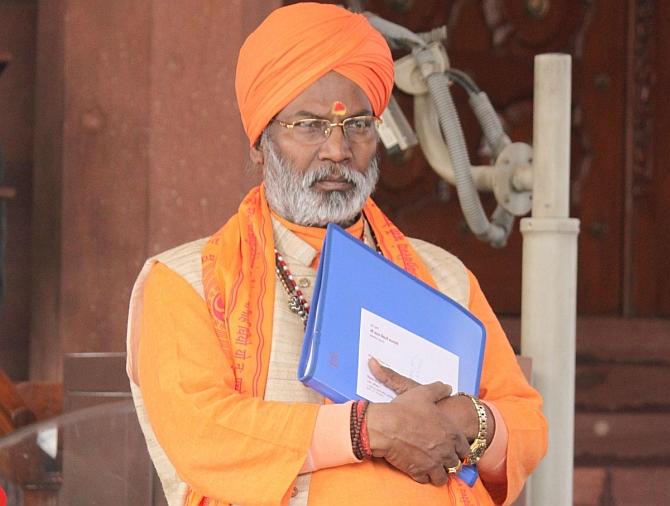 The war of words in the Dadri lynching case will not cease for now.
Bharatiya Janata Party's Sakshi Maharaj, known for his controversial statements, jumped added fuel to the fire on Tuesday when he said that they were ready to kill in order to protect cows from slaughter. The remarks came on a day when Samajwadi Party's Azam Khan is expected to visit the village.
"We won't remain silent if somebody tries to kill our mother. We are ready to kill and get killed. The Uttar Pradesh government's double standards have been exposed. The way in which the incident is being politicised is condemnable," said Maharaj.
Hitting out at Samajwadi Party Minister Azam Khan, Maharaj said, "Azam Khan is a Pakistani. He has faith in Pakistan's political force. He calls Bharat Mata 'witch'."
The BJP firebrand also slammed the Akhilesh Yadav government, alleging that the government was biased in its treatment to victims.
Sakshi said that when a Muslim dies Rs 20 lakh is announced by the Uttar Pradesh government, but for a Hindu even Rs 20,000 is not allotted, adding that this is just to make the people silent for sometime. He said, "Muslim marega to 20 lakh diye jaynge aur Hindu marega to 20,000 bhi nhi diye jaenge."
Condemning the incident, Union Finance Minister Arun Jaitley said, "India is a mature society. We need to rise above these kinds of incidents because they certainly don't give a good name as far as the country is concerned."
Ikhlaq was beaten to death by a mob on September 28 after a public announcement from the local temple that a calf had been slaughtered and his family had eaten beef.
His 22-year-old son Danish who was also attacked is battling for life at a hospital following two brain surgeries. The incident has sparked outrage in the country, with parties attacking the Bharatiya Janata Party alleging that the killing was a result of its "politics of hatred".