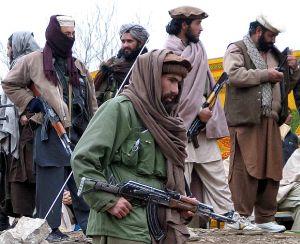 In a significant climbdown, the Pakistani Taliban on Wednesday said it is ready for a ceasefire and peace talks if the government stops arresting its fighters and killing them in fake police encounters.
"Our fighters are being targeted, arrested and killed in fake police encounters. The government's negotiations team should ensure to our committee that this would immediately stop," Tehrik-e-Taliban Pakistan spokesman Shahidullah Shahid told the media in Islamabad.
"The government has killed more than 60 Taliban since the start of the peace talks, in Karachi and the rest of Pakistan, under a secret operation codenamed Operation Root Out," he alleged.
Shahid said that a ceasefire may be reached if the government ensures that the TTP's demands are met.
The Taliban had earlier demanded release of non-combatants and pullout of troops from South Waziristan as a condition for a ceasefire.
The change in demands came days after the banned group killed 23 security personnel in their custody.
"The killings of soldiers in Mohmand were in response to the onslaught on Taliban members by security forces during the talks between government and Taliban committees," Shahid said.
Peace talks to end years of violence by the militant group reached a deadlock earlier this week after the killing of the soldiers who had been kidnapped in 2010 and were killed in captivity to avenge what the TTP called the custodial killing of their "fighters" in various parts of Pakistan.
Pakistani security authorities have denied any such killings were carried out.
Following the killings, the four-member team of government negotiators said it would not be able to carry forward the talks process due to continuing deadly attacks by militants.
The government had sought an unconditional ceasefire from the Taliban for any talks to work out a solution to the decade-old insurgency that has claimed 40,000 lives.
Meanwhile, a member of the Taliban-nominated peace talks committee, Maulana Yousuf Shah, vowed to break the deadlock in negotiations.
"People should not be disappointed as the negotiations process is still ongoing. There was a deadlock before as well but we were able to break it with maturity," Shah told reporters in Peshawar.
"Maulana Samiul Haq is in direct contact with the Taliban. We will restore peace at any cost," he added.