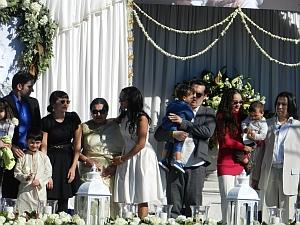 Friends, family members and followers, who came to pay tribute to music maestro Pandit Ravi Shankar were welcomed with white roses and vermilion on forehead on Thursday in his hometown Encinitas, in Southern California. Ritu Jha reports.
The memorial service was held in an open space at the Self Realisation Fellowship Center. A short recorded voice clip of Shankar was played for the audience.
"I was in constant search of trying to reach something that I could see, that I could almost touch and hold on. Music is the only language I really know because I now know sound is god," it said.
The memorial started with a prayer and speech by Dr M N Nandakumara, executive director of the Bharatiya Vidya Bhavan, London.
Nandakumara told Rediff.com, "Whenever he performed here he would never accept a single penny. He introduced greats such as former Beatle George Harrison to the audience in London," said Nandakumara.
"He was always there whenever we wanted him. He never said no to us," he said.
Shankar's daughter Anushaka in her short speech said, "Thank you for being here to celebrate my father. Forgive me, but I don't trust myself to speak about him today, but would like to thank on behalf of my family and myself to all the people who have helped in giving us support and strength."
She also thanked Indian Ambassador to the United States Nirupama Rao and Consul General of India N Parathsarthi, for arranging the garlands. "Deep thanks to the Self Realisation Fellowship; my father loved this place," said Anshuka.
Conductor Zubin Mehta, said that he always felt like a 'little crumb' in Shankar's presence, because every night, in whichever way he was he was performing, he was composing simultaneously.
"That something doesn't exist in my world. We just try to recreate what the master has left for us for the next hundreds of years," said Mehta.
"Since he could not read or write the Western notations, it was my honor to sit next to him when he was composing. He was a great master. He would always approach me with humility, and I will never forget the hours spent with him performing at the New York Philharmonic," Mehta said.
"He was always very positive and smiling, and each raga would start with such a meditative and introspective mood, and would end in a victory. Until he achieved his victory, he would take you through a gamut of emotions. Ravi was a face of our country to the world. Everybody knew India through Ravi, our guruji," said Mehta who ended his speech with quotes from a Zoroastrian prayer.
Anushka's husband Joe Wright, who shared his first meeting with his father-in-law, said loving the daughter of a world renowned celebrity was challenging.
"The first time I met him, he asked me, 'do you wash everyday?' I said yes. He asked, 'just face and hands or all over?'
"He was very particular about hygiene," said Wright, somewhat lightening the mood of the audience.
Visibly holding back his tears, Wright said, "He was playing music even at the operating table. I could see his fingers moving when I went to meet him in the hospital. He is gone now, and all that remains in my imagination is that a beautiful life lies ahead of him. May god bless his soul."
Olivia Harrison, wife of George Harrison, who offered flowers at the memorial said, "Shankar helped a young George Harrison achieve a more meaningful life. They were like father and son as well as brothers."