'I am happy Sanjay Raut and Sharad Pawar changed the game of Maharashtra politics.'
Syed Firdaus Ashraf/Rediff.com reports from Shivaji Park.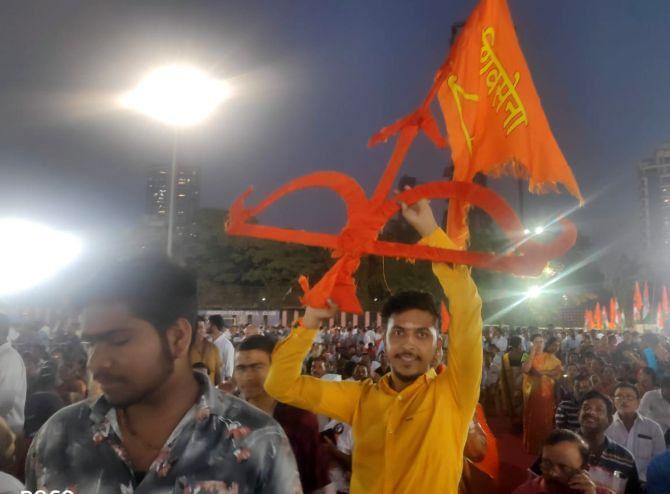 As the Congress, Nationalist Congress Party and Shiv Sena came together to form the Maharashtra government at Mumbai's Shivaji Park on Thursday, November 28, the trust among their respective cadres could be seen clearly as well as a sense of relief that they could defeat a common enemy, the Bharatiya Janata Party.
Perhaps it wasn't so obvious to the policemen on bandobast duty who asked, "What do you think? Will this government last five years?"
"I am confident this government will last its five-year term," Congress supporter Ashraf Ali Shaikh replied. "In fact, I would say this troika will rule Maharashtra for the next 25 years."
At which point, Shaikh's friend Sachin Patil, a Shiv Sena supporter, pitched in, "This political crisis proves one point, that all political leaders at the top are united. And we in the public might have political differences, but must not fight."
"Shaikh and I know this. For the last 25 years he is with the Congress and I am with the Shiv Sena, but we never fought, but kept our friendship intact in spite of our different political ideology."
Did Patil not regret the fact that the Shiv Sena had dumped Hindutva to join hands with secular forces?
"So what was the BJP doing with Ajit Pawar? Didn't they dump Hindutva that time? Didn't they flirt with Ajit Pawar to form the government? So why blame the Sena after losing out?" he asked.
Mukund Beni from Nashik, who has been a Shiv Sainik for 30 years, has a counter-question. "What are you talking of Hindutva? The issue is over after the Supreme Court's Ram Mandir ruling. I am a Hindu and does it mean I will convert to Islam after the Shiv Sena forms a government with Congress and NCP? No!"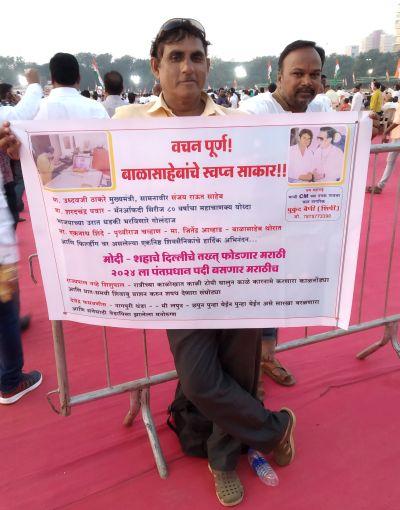 Coming down heavily on Girish Mahajan, a minister in the first Devendra Fadnavis government, Beni, left, said, "In the name of Hindutva, all that BJP leaders like Girish Mahajan did was to break up Congress and NCP leaders and bring them into the BJP fold."
"They did this to Radhakrishna Vikhe Patil of the Congress, Madhukar Pichad and Udayan Raje Bhosale of the NCP and many more. And to counter the BJP, this was needed and I am happy Sanjay Raut and Sharad Pawar changed the game of Maharashtra politics."
"And those who can tell us the Shiv Sena dumped Hindutva? What was Modi doing with Mehbooba Mufti in Kashmir? Nobody asked this question to them, so why put this question to Shiv Sainiks?"
Pointing out to the large crowd gathered to witness the swearing-in ceremony, Beni said, "We are the Shiv Sena. We form the government in the open and not like Fadnavis who formed the government quietly through wrong methods."
"If Sanjay Raut is the man of the match, then Sharad Pawar is the man of the series of this brilliant strategy to defeat the BJP."
Asked what were the chances of the government surviving for five years, Beni said, "The BJP will not dare to destabilise the Maharashtra government. After the Ajit Pawar fiasco they will not make that mistake again."
Nitin Raje, a real estate broker and Shiv Sena supporter, added, "It is not that the Shiv Sena did not shake hands with the Congress earlier. You see the presidential elections of Pratibha Patil and Pranab Mukherjee, Balasaheb Thackeray supported these Congress candidates though the BJP had its own presidential candidate."
Satish Kori, a Congress supporter and restaurant owner, said, "The problem with (Prime Minister Narendra Damodardas) Modi is that he only talks about his achievements against Pakistan. We are done with that country. Now the issues that bother the common man are unemployment and the economy. Business is dead under the Modi government and he is not doing anything to revive it."
At another end of Shivaji Park, a group of NCP workers sat with the party flag. Hailing from Islampur in Sangli district in western Maharashtra, they were full of praise for their leader Jayant Patil who was sworn in as a minister on Thursday and hoped he would be appointed deputy chief minister.
Asked about the new government, they asked me to note down the name of every person in their group: Sachit Khot, Ashok Mohite, Namdeo Mohite and Bharat Jadhav.
They then asked for my press ID card. "We don't know who is from which party and what is your intention in asking such questions." They even took my photograph.
"Credit for this government must go to Jayant Patil and Sharad Pawar," Sachin Khot said. "They worked hard and in spite of big leaders quitting the party, they toiled hard to get victory."
Asked how he felt about Ajit Pawar coming back to the NCP fold, Khot said, "He came back because he discovered that nobody will leave Sharad Pawarsahib."
As the huge screens at the ground focused on Devendra Fadnavis, the crowds start shouting "phuga, phuga (balloon, balloon)."
"People are calling him 'phuga' because his bluff has been called and all his tall claims have been busted," said Sanket More, a Yuva Sena leader.