A war of words erupted on Saturday between Shiv Sena-Uddhav Balasaheb Thackeray MP Sanjay Raut and Nationalist Congress Party's Ajit Pawar with both leaders attacking each other indirectly amid a "spitting" row.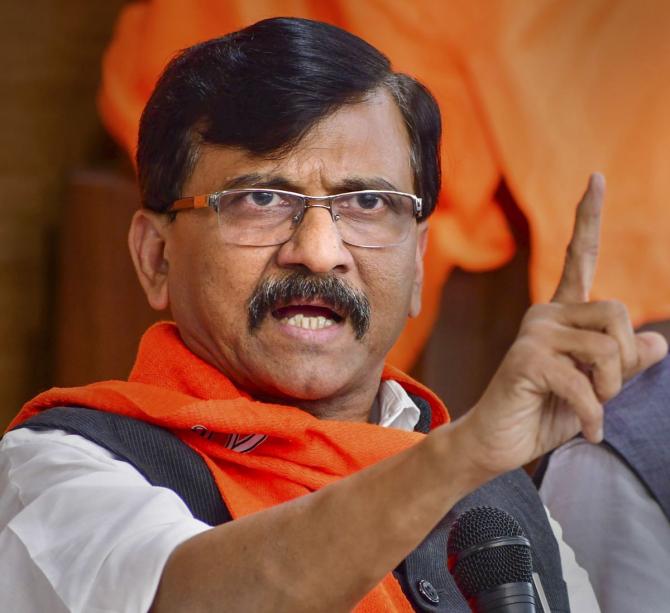 The Uddhav Thackeray-led Shiv Sena faction, Nationalist Congress Party, and Congress are constituents of Maha Vikas Aghadi preparing to contest the 2024 elections in alliance.
The trigger was Raut spitting on the ground in front of cameras during a press conference on Friday when reporters sought his reaction to Shiv Sena MP Shrikant' Shinde's jibe targetting Uddhav Thackeray.
Under flak, Raut on Saturday claimed spitting was accidental and not intentional as he was having a problem with his teeth.
Earlier in the day, Ajit Pawar said such a "spitting" act is not Maharashtra's culture and one should be careful while speaking.
Hitting back, Raut said, "Spitting is better than urinating", apparently alluding to Ajit Pawar's controversial remarks he had made in 2013 when he was deputy chief minister of Maharashtra.
"Show me where I spit. It's their thinking, their mindset. They think that people spit on them and it's true. I told you yesterday that I had some problem with my teeth and it resulted in the act. My tongue came under my teeth when the name of the person who cheated Maharashtra, Shiv Sena, and Balasaheb Thackeray was mentioned and I spit. I didn't spit when the name of any politician was taken but I did so when the names of traitors were taken," Raut said in Trimbakeshwar.
He claimed when (late Hindutva ideologue) VD Savarkar was produced in a court regarding a case, "he had spit on seeing the person (traitor) who had spilled beans about him".
Spitting on traitors is the Hindu culture. It is Hindutva, not a crime, he added.
"Spitting is better than urinating. Those who suffer know the pain. We are suffering and despite that, we are standing on the ground. I am still with my party. I do not think of aligning with parties like Bharatiya Janata Party to avoid problems," he added.
Ajit Pawar had stirred up a row in 2013 with his comments ridiculing the acute water scarcity in the state.
Referring to the hunger strike of a drought-hit farmer, Ajit Pawar had said, "He is on fast for the last 55 days. If there is no water in the dam, how can we release it?Should we urinate into it? If there is no water to drink, even urination is not possible."
He later apologised for his remarks.
When asked to comment on the 'spitting' row on Saturday morning, Ajit Pawar, the current leader of the opposition in the Maharashtra assembly, said such an act is not the culture of Maharashtra.
"Maharashtra has history, culture, and heritage. Yashwantrao Chavan (the first chief minister of Maharashtra after it was created) had shown us how cultured Maharashtra can be. Care should be taken while speaking."
"I heard that Raut has given a statement that he was having some issues with his teeth. They are great people. We respect them but this is not Maharashtra's culture. What he (Raut) says is his right. Whatever he says it doesn't affect us. No comments", he told reporters in Nagpur.
© Copyright 2023 PTI. All rights reserved. Republication or redistribution of PTI content, including by framing or similar means, is expressly prohibited without the prior written consent.