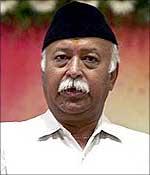 Rashtriya Swayamsevak Sangh chief Mohan Bhagwat has sparked outrage with his statement -- that rape is mainly prevalent in urban India due to western influence and such crimes against women do not happen in rural areas of the country.
The remark -- that came against the backdrop of the Delhi gangrape incident -- was slammed by the Congress, the Communist Party of India-Marxist and women's bodies, while the Bharatiya Janata Party and the RSS defended it, saying the comment should be taken in the proper perspective.
Bhagwat claimed that incidents of rape were the result of the adoption of western culture in society as a whole and that erosion of traditional Indian values were more pronounced in urban areas.
"Crimes against women happening in urban India are shameful. It is a dangerous trend. But such crimes won't happen in 'Bharat' or the rural areas of the country. You go to villages and forests of the country and there will be no such incidents of gangrape or sex crimes," he said at a meeting in Silchar in Assam recently.
"Where 'Bharat' becomes 'India' with the influence of western culture, these type of incidents happen. The actual Indian values and culture should be established at every stratum of society, where women are treated as the 'mother'," he added.
Demanding that the government take appropriate action to stop incidents of rape, he said the RSS will support any government initiative to change existing laws.
Reacting to the statement, CPI-M leader Brinda Karat said, "Bhagwat neither understands India nor Bharat."
Karat said government's statistics of atrocities on women and sexual assault showed that the maximum number of victims belong to the poor, Dalit and tribal communities.
National Commission of Women chief Mamta Sharma said Bhagwat should stop differentiating in terms of geography.
"We are all Indians. We are all citizens of India. Go to the grassroots level and see what the condition of women is there," he said.
RSS spokesperson Ram Madhav said the RSS chief's statement should be taken in proper perspective.
"He has condemned the heinous crime of rape against women and said it is an utterly wrong thing and that people who indulge in such things must be punished," he added.
Do you, dear readers, agree with the RSS chief's statement? Do you think rape cases are a product of western culture and are more prevalent in urban India?
Share your opinion and comments on the message board below.