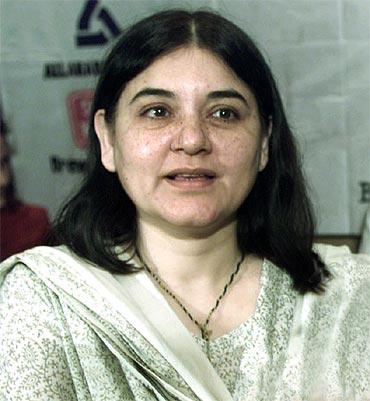 Calling the gang rape and murder of two girls in Badaun a "terrible" case and Uttar Pradesh government "insensitive", Women and Child Development Minister Maneka Gandhi on Monday said the Centre would set up rape crisis centres in all districts of the state by yearend.
"Insensitive, they are. I say this government should go. But even if a new government comes, till the time we don't provide ample protection to women, what will it do"? Gandhi said when asked if she thought that recurrence of crimes against women in UP reflected insensitivity on the part of the state government.
She said the incident in Badaun is a "terrible, terrible case" which is symptomatic of what is happening all over the country.
Gandhi said such incidents occurred because very few support services were available to women victims and added that her ministry had taken such crimes "very seriously".
"Even if there had been no Badaun, this was on my priority to establish functioning rape crisis centres. These centres would be serviced by policemen, lawyers, doctors.... There would be ambulance and they will go hand in hand with a national helpline," she said.
The WCD minister said the government would set up and start at least one such centre in each of the districts and nearly Rs 500 crore could be allocated for the centres. She said the ministry had the funds to run such centres and more money from the 'Nirbhaya' fund could be considered. She said these Centres would start functioning by December.
Pointed out that many households do not have toilets and women were compelled to go out and on often became vulnerable to crimes against them, the minister replied that this was a priority area.
"In fact, I am happy to dedicate all my MPLAD funds to the making of toilets," Gandhi said.
Asked if she would visit Badaun to which she replied in the negative. She said her intent was to get working so that such incidents do not happen.

Image: Women and Child Development Minister Maneka Gandhi