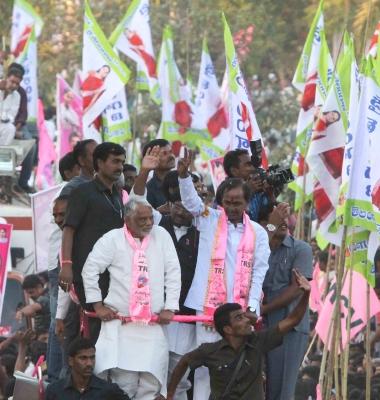 With the Telangana Bill having been passed in Parliament, a victorious Telangana Rashtra Samiti president K Chandrasekhar Rao returned to Hyderabad today from New Delhi to a hero's welcome by thousands of enthusiastic TRS party workers.
The TRS made massive arrangements to welcome him and thousands of party workers and Telangana supporters gathered in Hyderabad from different Telangana districts to participate in a victory rally from Begumpet airport to the Telangana martyrs' memorial near the state Assembly.
Before leaving for Delhi for the recently concluded Parliament session during which the Telangana bill was passed, the TRS president had announced that he would return to a separate Telangana state.
TRS leaders also arranged horses and camels for a traditional welcome for their leaders.
As scores of TRS activists and supporters showered flower petals on him, the TRS president wished them as he moved slowly towards the Telangana martyrs' memorial.Speaking to reporters about a merger or tie-up with Congress, TRS Member of Legislative Assembly and Chandrasekhar Rao's son K T Rama Rao said that it is a historic occasion for TRS and that the party would first like to see formalities related to AP's bifurcation to be completed.
Image: Telangana Rashtra Samiti president K Chandrasekhar Rao with senior leader K Keshava Rao arrive in Hyderabad. Photograph: SnapsIndia