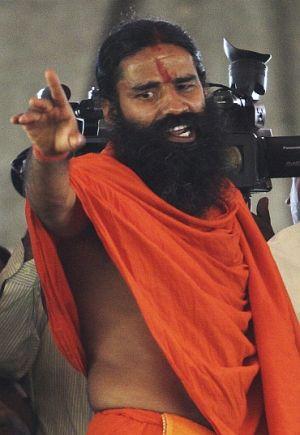 Amid sharp criticism over his medicine promising the birth of male child, Yoga Guru Baba Ramdev on Friday hit back at the opposition leaders for their unwarranted comments and said that they were attempting to malign Prime Minister Narendra Modi's image through him.
"Through me, a fakir, they are trying to malign Prime Minister Modiji," he said.
Ramdev pointed out the botanical name for the medicine and said that it was called 'putrajivak' in multiple Indian languages.
"The botanical name of this medicine is 'putranjiva roxburghii' and it is called 'putrajivak' in Hindi, Gujarati, Kannada. It is called 'putrvajivak' even in Marathi, Telugu and Bengali. What am I supposed to do if the name is only 'putrajivak'?" he said.
Ramdev further asked his critics to 'give evidence' in support of their allegations. He also said he did not intend to change the name of his medicines that are derived from botanical names of ingredients and should not be taken literally.
"If I change one, I will have to change all of them," he added.
On Thursday, the opposition trooped into the Well of the Rajya Sabha during Zero Hour to protest over Ramdev's alleged concoction.
The opposition called the medicine 'illegal' and 'unconstitutional'.
The Patanjali Yogapeeth and the Divya Yog Mandir had earlier said in a statement that the medicine had nothing to do with sex determination.