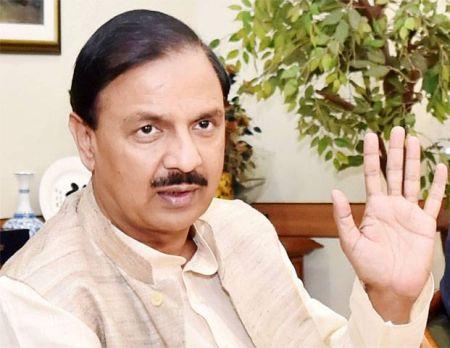 The Bharatiya Janata Party will leave aside contentious issues like Ram temple and focus on Prime Minister Narendra Modi's development agenda in the assembly elections in Uttar Pradesh, where it will not have any pre or post-poll alliance, Union minister Mahesh Sharma, who played a significant role in the party's Lok Sabha victory in the state said on Sunday.
He exuded confidence that the BJP will get over 265 out of 403 seats.
Sharma, who was rewarded with a ministerial berth for his hard work in the Lok Sabha polls in UP, said BJP's focus during the campaign will be on development, good governance and rooting out corruption and not the Ram temple.
He said the party would not like to make Ram temple a political issue.
"Construction of Ram temple is the wish of millions of people as a matter of faith. We do not want to make it a political issue. It is not on our political agenda. But people of this country want a Ram temple at Ayodhya. We want to do it (construct the temple) either by consensus mode or verdict by court of law," said Sharma.
As the BJP shifts focus to the assembly polls in UP due next year after its resounding victory in Assam, Sharma said party leaders are considering the elections in the politically crucial state as a 'special task that has to be accomplished' but ruled out having truck with any party either before or after elections.
"We will not have any alliance with any of the parties, whether it is Lok Dal or any other party. No pre-poll, no post-poll alliance of any sort," Sharma said when asked whether the BJP will have any alliance with any party for the assembly polls.
In a spectacular performance, the BJP had won a whopping 71 out of 80 Lok Sabha seats in the 2014 polls, propelling the party to attain a majority in the House on its own for the first time.
The party had won just 47 seats in the 2012 assembly polls. The BJP's vote share was 42 per cent in the last Lok Sabha polls as against 15 per cent in the assembly polls in 2012.