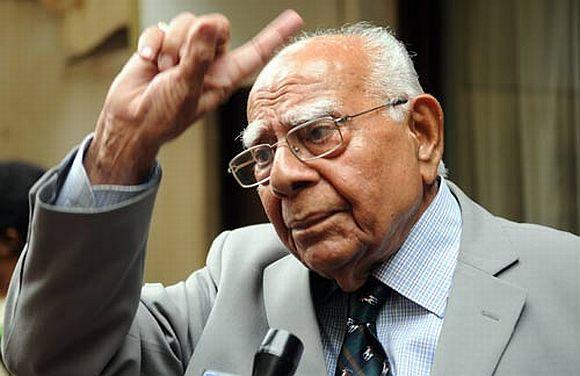 'I don't know who is deciding Indian foreign policy today. I don't know who is deciding how India deals with Pakistan,' former Union minister Ram Jethmalani takes on the Modi government..
India's decision to cancel talks with Pakistan because their High Commissioner Abdul Basit spoke to the separatists is wrong. The Hurriyat and their support of Pakistan's position on Kashmir is well-known. If India doesn't like Pakistan speaking to the Hurriyat, they should be given a chance to make a graceful exit from their talks.
It is not a good enough reason to cancel the talks. India should have made it clear to Pakistan before the talks. What would have happened if they had a secret meeting or spoken on the phone?
They did it openly, and it should be appreciated.
When I was in Kashmir at the invitation of the Kashmir Peace Foundation, I met the Hurriyat leaders. I also met Syed Ali Shah Geelani of the Tehrik-e-Hurriyat and the moderates.
I had suggested five principles, to which they had agreed.
No war.
Complete rehabilitation of the Kashmiri Pandits.
All disputes to be settled by negotiations or arbitration.
Both sides should come down from their extreme positions; no talk about canceling Article 370.
No terrorism.
The tragedy of the way India deals with Pakistan is that the Congress has slowly phased out then prime minister Lal Bahadur Shastri from Indian history.
Shastri had signed the Tashkent agreement in 1966.
Two lines stood out in that agreement:
Neither party will disturb the status quo
No propaganda to change the status quo
And then we got into the Bangladesh war in 1971. We had 90,000 Pakistani prisoners of war and (then Pakistan prime minister Zulfikar Ali) Bhutto was at (then Indian) prime minister Indira Gandhi's mercy, and yet he managed to fool her by adding a clause to the Simla Agreement that the two prime ministers would meet again and again to solve the Kashmir problem.
This undid and negated what Shastri had done. The Nehru family was determined to undo what Shastri had done.
For example, take the Tibet problem. We lost the 1962 war to China because (then prime minister Jawaharlal) Nehru hid from the people the fact that China had been occupying parts of Indian territory for seven years.
I don't know who is deciding Indian foreign policy today. I don't know who is deciding how India deals with Pakistan. I don't know whether Foreign Minister Sushma Swaraj knows anything about foreign policy or diplomacy.
The media had asked me about this meeting and I had clearly told them, 'Basit is a man of peace. I hope he comes here and moves the peace process forward.'
I had thrown the ball in Basit's court. That is the way you conduct diplomacy and not behave like petulant children.
Ram Jethmalani spoke to A Ganesh Nadar/Rediff.com