'If the circumstances warrant me to enter politics, I won't allow such people to come anywhere near me, not even allow them an entry.'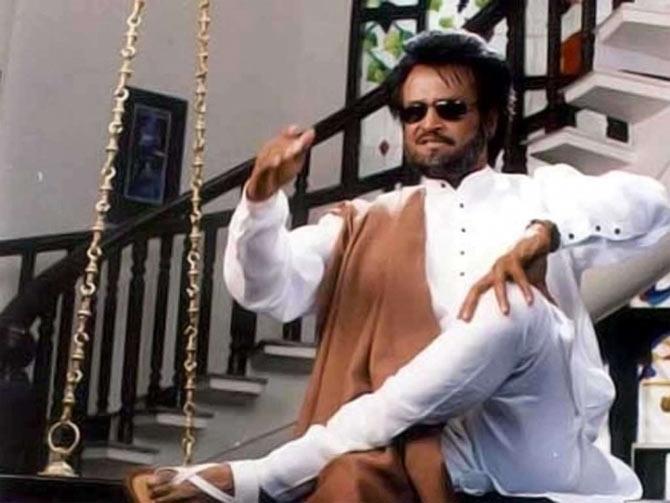 On Sunday, May 14, Tamil superstar Rajinikanth met his fans after a gap of eight years.
The biggest Tamil movie star since M G Ramachandran, the 66 year old also utilised the event to speak about his entry into politics, a subject that has been constantly discussed in the state since 1996, when he extended his support to the Dravida Munnetra Kazhagam-Tamil Maanila Congress alliance which swept the assembly elections and dislodged J Jayalalithaa as chief minister.
Rajinikanth's meeting on Sunday with his fans, organised through the actor's rasigar mandrams (fan clubs), promises to be an ongoing one, with more being scheduled in the next few days.
Excerpts from what Rajinikanth said at Sunday's meeting, translated from Tamil:
'They say Rajni doesn't take a firm stand, keeps changing his mind, hesitates, is afraid, these are all said of me, written of me.'
'Before I say something, I think a lot, as much as I can. After that only I take a decision.'
'Sometimes it is only after deciding that some problems may arise, and need to think some more.'
'Like, we step into water. After stepping in we come to know there are a lot of crocodiles in the water. Can you say that since you have taken a step forward you will not go back?'
'You have to go back, and not be foolhardy (murattu dairiyam in Tamil). Those who talk will keep talking.'
'Another thing that is said is Rajni only talks when his film is releasing, make some comments, do some stunts, all to make his film run.'
'Thanks to your blessings, and your love, I don't have to resort to such stuff.'
'My fans, and the Tamil people, won't be fooled by such things.'
'Only when the grain is cooked does it become rice. Only when a film is good does it become a hit. Even if you do somersaults this cannot change.'
'It is because my directors and producers have given me good stories, great scripts, songs, given me good roles, made good films that I am standing here before you.'
'Another important thing that is said is about politics, that Rajni hesitates, he won't say anything, but to make his fans see his films shows them political maya.'
'Some 21 years ago, there was a political accident at that time, because of some circumstances I had to show my support to a political alliance. Because of that my Tamil people, who are my life, supported the political alliance and gave them an electoral victory.'
'Since then my name has been associated with politics, and some of my fans too got involved deeply in politics.'
'They used some politicians, and in turn they, some of them, were used by some politicians.'
'A lot of money was also seen. They got a taste of this.'
'Since then every time an election came up, those people would seek these people out, and these people would seek them out.'
'For proof, to come and tell you that I am supporting them. Because of this every time I had to clarify that I am not supporting anyone.'
'It is not as if I am a great political leader, or a social activist, or someone for whose support everyone is wai*ting, that is not the case.'
'I am not supporting anyone, and if anyone seeks votes claiming to have my support please don't vote for them.'
'Meanwhile some fans write to me that they have been left behind, while others after them have gone ahead, own vehicles etc. "Why can't we become MLAs and ministers, and earn money?", they ask.'
'There's nothing wrong, one should aspire to become a councillor, MLA or minister. But to see it as a path to earn money... I don't know whether to laugh at it, get angry, feel sad, I don't know.'
'I said it then, I am saying it now. My life is subservient to god. I have to maintain this body clean, healthy, have a pure heart.'
'I am a tool in the hands of god. Now he is using me as an actor, so I acting as an actor. Tomorrow, in whatever way he uses me...'
'However he uses me, I am doing it justly, honestly, truly, conscientiously.'
'Today I am fulfilling my responsibility as an actor, entertaining people, earning money is secondary.'
'Similarly, whatever responsibility I am given, I will fulfil it honestly, truly, justly.'
'I don't know what it may be. It is in the hands of god. Everything is done by him, that is the basis of spirituality.'
'Even when you are doing wrong, your conscience warns you against it, similarly when you are lying.'
'So, my life, everything is in the hands of god.'
'For people who may have those kinds of desires, I wish to say this now.'
'If the circumstances warrant me to enter politics, I won't allow such people to come anywhere near me, not even allow them an entry.'
'So you may leave right now, else you will be disappointed. Even though I'd like to say more...'