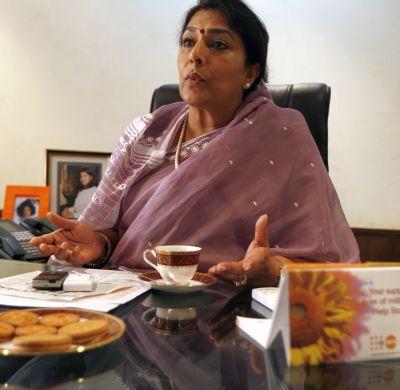 It will be tough for the Congress leader to return to the Upper House from either Telangana or Andhra, where the party's presence has dwindled. But neither House will forget her.
She once shocked everyone by saying that Andhra Pradesh Chief Minister N Chandrababu Naidu looks like a pickpocket standing at a bus stand and described film star-turned-politician Jaya Prada as a "bimbo". She had dared policemen to arrest her and waged a war against the media.
Telugu Desam Party founder and former Andhra Pradesh chief minister N T Rama Rao, widely known as NTR, once described her as the "only man in TDP". "Rani Rudramma Devi", "Revolver Rani" and "Rajni of Rajya Sabha" are the titles that the people of Andhra Pradesh have bestowed on her. It was due to her "devil-may-care" attitude that she was expelled twice from the TDP.
That's Renuka Chowdhury.
Born in Visakhapatnam in 1954 into the family of an air commander, she got the opportunity to live in different parts of the country, learn several languages and understand various cultures.
She did her schooling from Punjab, passed Class 10 from New Delhi and went on to study further in Chennai and Bengaluru. She holds a diploma in marketing management, public relations and advertising. At the age of 21, she married Sridhar Chowdary, a businessman from Hyderabad. The couple has two daughters.
Renuka began her political career as a corporator from Banjara Hills, a posh area in Hyderabad. She joined the TDP in 1984 and was a Rajya Sabha member for two terms -- 1984-89 and 1992-98.
In 1993, she fought a by-election from the Panyam assembly constituency when Congress leader and then chief minister Kotla Vijayabhaskar Reddy contested to fulfil the constitutional obligation. She could not succeed.
In 1994, she developed differences with NTR. When she campaigned against NTR in his Hindupur constituency, he expelled her from the party and wrote to the then Rajya Sabha chairman, requesting him to suspend her. From her expulsion to the end of the term, she remained a member of separate party TDP-2, formed by her.
After NTR's death in 1996, Renuka returned to the TDP and served as the minister for health and family welfare in the I K Gujral government at the Centre.
When she was denied a third term in the Rajya Sabha in 1998 and actor-turned-politician Jaya Prada was nominated in her place, she turned her ire on Chandrababu Naidu and questioned his decision to join hands with the Bharatiya Janata Party. Naidu expelled her from the TDP for "indiscipline".
She then joined the Congress and contested from the Khammam Lok Sabha constituency in 1999. She was one of the only five Congress candidates from Andhra Pradesh to be elected to the Lok Sabha. She won from Khammam despite a three-corner contest.
When the Congress came to power at the Centre in 2004, she was first made the minister of state for tourism and then minister for women and child development. It was in this capacity that she announced, among other things, a "Pub Bharo Andolan" after fringe groups like Pramod Muthalik's Sri Ram Sene in Mangalore "banned" women from going to pubs.
In 2012, she was re-elected to the Rajya Sabha for a third term -- which ends in a few weeks. There is talk that she may decide to quit the House a month ahead of the end of her term on grounds that she was the victim of a sexist insult by Prime Minister Narendra Modi.
It will be tough for her to return to the Upper House from either Telangana or Andhra, where the Congress's presence has dwindled. But neither House will forget Renuka Chowdhury.
Photograph: Tanushree Punwani/Reuters.