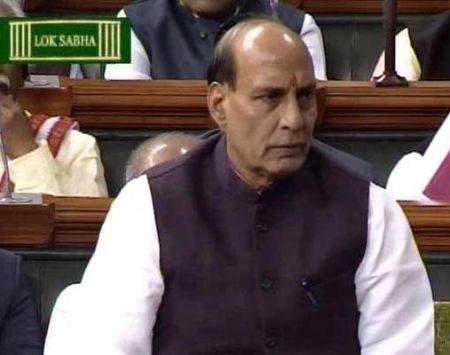 In an apparent jibe at actor Aamir Khan for saying his wife asked if they should leave the country over the growing intolerance, Union Home Minister Rajnath Singh on Thursday said B R Ambedkar had never thought of leaving the country despite being subjected to insult and discrimination.
"Despite facing insult and discrimination, he still presented an objective point of view on the Constitution though he was hurt by the treatment. He never thought of leaving India for any other country," Singh said while initating a debate in Lok Sabha on commitment to the Constitution.
His remarks drew immediate reaction from the Opposition parties including the Congress and the Left.
The comments by Singh was viewed as an apparent response to actor Aamir Khan's statement that his wife did not feel safe for their child and had also thought of leaving the country. Aamir later made it clear that he or his family would never leave India.
Both Houses of Parliament are holding a special sitting for two days on the anniversary of adoption of the Constitution by the Constituent Assembly this day in 1949.
Rajnath speaking in the Lower House, honoured BR Ambedkar, adding that Baba Saheb was the binding force of the country.
"An achievement on Dr Ambedkar's 125th birth anniversary is that we're having discussion on commitment to Constitution in the temple of democracy. If Sardar Vallabhbhai Patel ji played the role of unifying force, Babasaheb Ambedkar was the binding force in this country," Singh said, while addressing the Lok Sabha on the first day of winter session of the Parliament.
"Our Constitution is a result of contribution of many great men. Babasaheb Ambedkar had to face a lot of criticism, but he kept on presenting an objective point of view for a unified India," Singh added.
Singh further said that Babasaheb was also the architect of the Reserve Bank of India and the Finance Commission of India.
"Ambedkar was also the architect of RBI and Finance commission. He gave the concept of Finance Commission during his research in ColumbiaUniversity," he said.
The Union home minister also pointed Baba Saheb Ambedkar's contribution to bring equality in society.
"He also believed in eradicating untouchability to bring equality in society. Sometimes people try to use it for political benefits for example the issue of reservation. Dr Ambedkar introduced the concept of reservation for equality, he said it's a socio-political necessity," he said.
In response to Singh's remarks, Leader of Congress in Lok Sabha Mallikarjun Kharge, said, "Who said he wanted to leave the country? He never wanted to leave the country. You have come from outside. You Aryans have come here from outside. We are here for the last 5,000 years and have been here suffering attacks. And we will be here," Kharge said.
-- With inputs from ANI
© Copyright 2021 PTI. All rights reserved. Republication or redistribution of PTI content, including by framing or similar means, is expressly prohibited without the prior written consent.