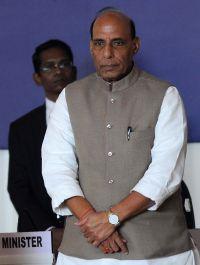 Ruling National Conference has filed a complaint before the Election Commission against Union Home Minister Rajnath Singh for allegedly violating Model Code of Conduct.
"NC has filed a complaint against Singh who violated the Model Code of Conduct by using the Srinagar International Airport premises to telephonically address a public gathering in Akad, Pahalgam (in south Kashmir's Anantnag district).
"We have shot a complaint to Chief Election Commissioner of India in this regard and demanded immediate cognisance of the offence," NC spokesman Junaid Azim Mattu said.
Singh, who was scheduled to address election rallies in Uri and Karnah areas of north Kashmir and Pahalgam of south, could not reach the places because of bad weather and addressed the rallies telephonically from the airport.
Mattu said the use of public infrastructure, which comes under the purview of the government, for the purpose of electioneering was a major poll code violation.
"The use of public infrastructure and the premises of a building, that comes under the purview of the government, for the purpose of electioneering is a major Model Code of Conduct violation."
"We have written to the ECI and hope that cognisance is taken impartially and in a time-bound manner and due action is taken against the BJP and Singh," he said.
The NC spokesman said the party would also file a complaint against Prime Minister Narendra Modi for levelling "baseless and unsubstantiated" allegations against its leadership.
"NC will also file a complaint with the ECI against Prime Minister Narendra Modi and the BJP for levelling serious baseless, unsubstantiated and wild allegations against the party leadership during his speeches in J&K.
"Nobody, including the prime minister of India, has a right to defame anyone and make wild, unsubstantiated allegations against any individual in the country," Mattu said.