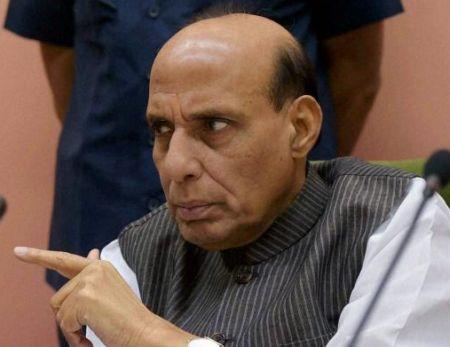 'The government cannot direct the high court or the Supreme Court on the issue'
A Special Investigation Team probe into the notorious Vyapam scam is monitored by the Madras high court and the government cannot order the court to hand it over to the Central Bureau of Investigation, Home Minister Rajnath Singh said on Monday.
The government cannot direct the high court or the Supreme Court on the issue," Singh said speaking to reporters in Jhabua, Madhya Pradesh.
Asked why the state government was avoiding a CBI probe into the massive recruitment/admission scam, Singh said the high court and the apex court had already rejected a public interest litigation in this regard. "There is no point in handing over the ongoing probe to CBI at this juncture," he said
"In case someone tries to influence the probe, or if any incident takes place that affects the investigation, then I am sure that the court will take cognisance.
"If the Supreme Court or the high court feels that the probe is not perfect to the extent it should be, then it will give directions and the government will immediately accept it and hand over the matter to the CBI," Singh said.
He also pointed out that the current probe was being conducted by a high court-appointed SIT and was being monitored by the court.
"Politics should be done (only) on positive and right issues," he said, adding that "both (Madhya Pradesh CM Shivraj Singh) Chouhan and I want a complete probe into the scam," when asked about the death of several accused or witnesses related to the scam.
Trainee sub-inspector Anamika Sikarwar, 25, was found dead in a lake in Sagar district on Monday. It followed the unexplained deaths of journalist Akshay Singh and Jabalpur Medical College Dean Arun Sharma.
The Congress has alleged that 45 people liked to the scam have died so far, all in mysterious circumstance.
The Vyapam scam is hinged on Madhyra Pradesh's top leaders and bureaucrats allegedly accepting bribes to allow imposters to take recruitment exams for government jobs and admission to colleges.

Image: Home Minister Rajnath Singh. Photograph: PTI