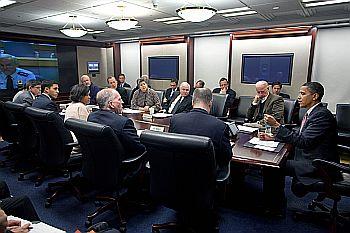 Less than a week after he was sworn in as head of the United States Agency for International Development, Dr Rajiv Shah sprang into the national limelight when President Barack Obama designated him as the government's chief disaster coordinator for Haiti.


"My national security team has led an interagency effort overnight.  And to ensure that we coordinate our effort, going forward, I've designated the administrator of the USAID, Dr Rajiv Shah, to be our government's unified disaster coordinator," Obama said.
The 36-year-old medical doctor, the highest ranking Indian-American official in any presidential administration, said the goal of the relief effort in the first 72 hours will be very focused on saving lives.


"That is the President's top priority and is what the President has directed us to do. We will do that by first putting in place significant Disaster Assistance Relief Teams," Dr Shah said at a briefing at the US state department on Thursday.


"We'll have, by the end of today, 15 members of that team doing surveillance, collecting data, identifying priority sites, and guiding the efforts of the larger search-and-response units that will following their entry into the country," he said.
Dr Shah told mediapersons later that USAID is committed to a significant effort in Haiti, the small nation devastated by an earthquake unheard of in recent times in terms of human toll.

"We will be pushing forward with an aggressive and coordinated effort, focused very much on saving lives through aggressive search-and-rescue in the urban environment for the next 72 hours. And that'll be the primary focus of our engagement," he said.

As part of this effort, Dr Shah said USAID is also thinking about critical needs in the area of health and food, water, transportation, and infrastructure, and other advanced planning that needs to take place now.

"We are committed to doing everything we can in all of those sectors. And so our team, which includes members from every agency in the federal government that has the capacity to help, is working to develop plans and put resources in place so that we can effectively respond to some of the requests that have come from the Haitian leadership and from our teams on the ground," he said.

USAID had already two urban search-and-rescue units on their way, both with 72 individuals, people who have significant training and significant equipment and technical capacity to conduct search and rescue in urban settings, to drill through and clear as much rubble as possible in order to try and identify individuals that can be saved and continue with the mission of saving lives.

Before joining the Obama administration, Dr Shah spent seven years in various roles at the Bill and Melinda Gates Foundation that seeks to improve the plight of the poor people of the world.
Image: Dr Rajiv Shah, third from left, with United States President Barack Obama, Vice-President Joe Biden and other officials in the Situation Room at the White House to discuss the earthquake in Haiti.
Photograph: Peter De Souza / White House official photo