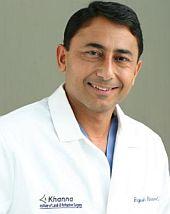 The Consumer's Research Council of America has chosen Chandigarh-born and New Delhi-raised Dr Rajesh Khanna, one of the pioneers of Lasik and refractive surgery, as one of the nation's top ophthalmologists.
Khanna, 42, the founder and medical director of the Khanna Institute of Lasik and Refractive Surgery in Beverly Hills, Los Angeles, and a practicing eye surgeon for over 15 years, has also been voted the Best Lasik Surgeon by consumers in Los Angeles.
Each year, the CRCA assembles a list of the top ophthalmologists in the United States, with those short-listed being judged on experience, education, training, professional associations, and, most importantly, feedback from patients who have undergone surgery.
Noting that every year over 210 million Americans visit an ophthalmologist, the CRCA says the list is aimed at making patients aware of the best eye doctors from around the country.
The CRCA makes it clear that 'no fees, donations, sponsorships or advertising is accepted from any individuals, corporations or associations,' so as to 'ensure an unbiased selection.'
Khanna, besides being one of the pioneers of Lasik eye surgery, is also at the forefront of being one of the most experienced and skilled Wave front Lasik, Prelex and cataract surgeons. He has performed thousands of procedures on patients across southern California, including vision enhancements on celebrities like actor Corbin Blue from High School Musical, Disney Channel star Brenda Song and mixed martial arts and kick-boxing star Sebastian 'Bas' Rutten.

An alumnus of the State University of New York in Brooklyn, where he did his ophthalmic residency and the University of Cincinnati, Ohio, where he received specialised training in Lasik and Refractive Surgery, Khanna told
rediff.com
,
"I feel humbled to receive this honour. It is prestigious and vindicates that ethical, caring way of practice is still the best.
"To be selected amongst the top ophthalmologists in America makes all the sweat, toil and tears worthwhile, especially for a boy who was head boy of Apeejay School in Panchsheel Park in New Delhi, where I received the chairman's award for the best all-rounder. It certainly is a long way from those high school days."
Khanna recalled the "thrill" of earlier being voted the best Lasik surgeon by the readers of the
Los Angeles Daily News
and the
Ventura County Star
and said, "This honour of an unsolicited award untainted by money or bias is equally thrilling. This award motivates me to work even harder and continue to take stellar care of my patients. I consider all my patients my family members. It's the high point in one's career, when one is recognized for the personalized procedures and the after-care that one provides."
He added, "Young Indian-American physicians needed to take up ophthalmology. This is a rapidly advancing field."
He said he would "personally encourage young Indian-American physicians to take up this specialty because with the Baby Boomer population retiring soon, there is going to be a dearth of ophthalmologists by 2020. So, there's an opportunity for professionals in our community to make a contribution to alleviate the lot of those who lead difficult lives because of poor vision, particularly the less fortunate amongst us."