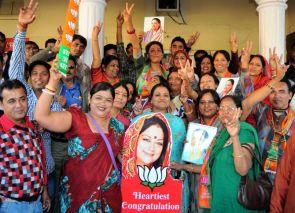 The 14th Rajasthan Assembly may have a woman chief minister but it will see less representation from the community compared to the 2008 assembly.
There are only twenty one women who could become legislators this time. While the ruling Bharatiya Janata Party will have fifteen MLAs including Vasundhara Raje, Congress would have only one.
Significantly, the National People's Party and National Unionist Zamindara Party will have two legislators respectively. One independent female candidate was also elected.
Zamindara Party's Kamini Jindal, who was the richest candidate in the fray, too got elected.
In 2008, a total of twenty eight women had become legislators, which was fourteen percent of the total strength of the assembly. It was the maximum in any assembly across country.
While the BJP, led by Vasundhara Raje, erstwhile Princess of Jaipur Diya Kumari and Siddi Kumari among others, won. Well-known Congress faces including Commonwealth gold medal winner Krishna Poonia, women commission chairperson Mamta Sharma, minister and actor Bina Kak, wife of arrested minister Leela Maderna and mother of Malkhan Singh Amri Devi lost.
The only woman candidate who won on a Congress symbol is Shakuntala Rawat from Bansur constituency.
The BJP and Congress had fielded twenty six and twenty women candidates respectively in the election.
For the first time, women voters outnumbered men in voting in this election. But it seems they could not make the fairer sex win.
While 75.51 per cent female voters exercised their right, only 74.91 male voters took part in it.
"When one party got routed then you can expect such decline in numbers of female legislators. But most importantly all parties should follow the norm of giving 33 per cent tickets to women candidates. Only then can a good number of legislators from the community reach the assembly," said Kavita Srivastava, national secretary of People's Union of Civil Liberties.
Photograph: Chandra Mohan Aloria