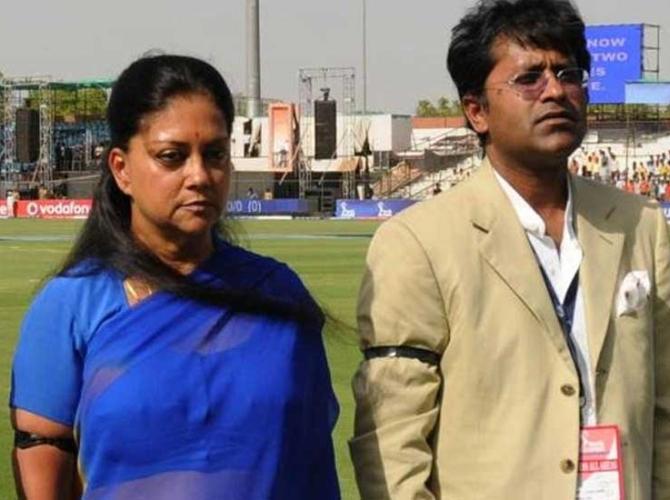 Troubles for the beleaguered Chief Minister of Rajasthan Vasundhara Raje mounted on Friday with the disclosure that she was the beneficiary of investments of over Rs 11 crore made by tainted Indian Premier League ex-commissioner Lalit Modi in her son's company at a high premium.
An affidavit filed by Raje before the Election Commission showed that she had 3,280 shares in Niyant Heritage Hotels, owned by her son Dushyant Singh, an MP.
Modi had invested over Rs 11 crore in this company at a huge premium of over Rs 96,000 per share of Rs 10.
This disclosure generated charges that Raje had benefitted from Modi's controversial investments which the Rajasthan Bharatiya Janata Party President Ashok Parnami rebutted by claiming tonight that these shares had been "gifted" to her by Dushyant and his wife Niharika.
Dushyant and his wife had gifted 1,615 and 1,665 shares, respectively to Raje on her birthday, according to Parnami who saw nothing wrong with it.
As the Congress party upped its ante demanding Raje's ouster, Finance Minister Arun Jaitley met Prime Minister Narendra Modi and is understood to have discussed various aspects of the raging controversy including the legal implications and the political fallout.
Jaitley, who last night had said that "nobody is tainted", later met BJP President Amit Shah and is believed to have deliberated upon the party's strategy to brazen out the massive row involving Raje as well as External Affairs Minister Sushma Swaraj.
High level BJP sources said tonight that there was "illiteracy" regarding the entire episode concerning Modi's investments in Dushyant's company. The company had taken a loan of Rs 4 crore in 2009 by cheque and another loan of Rs 7.5 crore in 2010.
There was no illegality in any of this and the value of shares was not inflated but was actually deflated, they said.
Raje, meanwhile, met some top leaders of the state unit, including party unit chief Ashok Parnami in Jaipur, and dismissed media reports about a signature campaign by 120 party MLAs in her support.
Reacting to this, BJP spokesperson Sambit Patra said in New Delhi that Raje's Income Tax returns for the years under question have been scrutinised by the IT department, which found nothing wrong.
BJP secretary Shrikant Sharma told reporters that the party "fully supports Vasundhara Raje who is our tallest leader in Rajasthan. Congress is targeting our popular leaders and we stand by her."
Mounting pressure for Raje's ouster, Congress alleged a "quid pro quo" with Lalit Modi in a MoU for setting up a cancer hospital in Jaipur between her government and the Portuguese facility where his wife was treated.
Congress also rejected any "links" between Modi and the Gandhi family after BJP made this allegation seizing on a tweet by the tainted former IPL Commissioner that he had "run into" Priyanka Gandhi and Robert Vadra in a London restaurant. It termed 'Lalitgate' as an index of "Gujarat model" of Prime Minister Narendra Modi.
Parnami, who held a press conference in Jaipur, said all allegations against Raje were "baseless" and asserted that the BJP is fully with her.
"All allegations against Raje are baseless. By levelling such allegations, Congress is indulging political vendetta against her and targeting decades-old family relations between her and Lalit Modi," the state BJP chief said.
Referring to the controversial 'affidavit' in support of Lalit Modi, he said the signature on it was that of Raje but it was only a "draft" which was "never" presented before any court or any other legal body in the UK.
"The Chief Minister has not appeared before any court or given any affidavit. The statement is not addressed to any court (in UK)," he insisted.
About the mention in that "draft" that the letter be kept confidential, Parnami said it was written deliberately "so that the ugly face of revenge by Congress against Raje did not come before the international media, which was a clear possibility in the surcharged political atmosphere at that time (in 2011)."
A CMO spokesman said, "The news of signature by 120 MLAs (in Raje's support) is completely wrong."
He said the Chief Minister holds "jansunwai" (public hearing) at her residence every Friday, and for this many MLAs come with the public of their constituency for putting forward their problems and demands.
"Similarly today, the CM is holding public hearing in which MLAs and party workers are meeting", the spokesman said.
The CMO said the Chief Minister never asked or made any call to MLAs to show their strength and support.
State Health Minister Rajendra Rathore went a step further to claim that Raje, then Leader of Opposition in Rajasthan, said the controversy was a "storm in a tea cup" as "there has been no benefit to anyone" in any deal.
He added that Raje will attend the meeting of NITI Aayog in Delhi on Saturday, making it clear that she was not quitting.
Asked about reports that the Raje government had given land to a cancer hospital of Portugal where Lalit Modi's wife was treated, he said an MoU was signed in 2014 for setting up of the hospital in the state for the benefit of the people.
Rathore said the Portuguese hospital was selected among various options, including an American "where Congress President Sonia Gandhi gets treated". The Portuguese hospital was chosen for "low cost", he argued.
He also insisted that the ownership of the land for the hospital will remain with the state government.
Changing its tack today, the party said even if Raje had backed the immigration appeal of Lalit Modi, she had not testified in court on his behalf and hence the Opposition criticism of her supporting a man wanted for financial crimes in India was "misplaced".
"Did she go and depose there (in the UK)? No. There was no action that finally took place of her behalf," said BJP spokesperson Nalin Kohli, adding that Raje's statement was made in 2011 "in her personal capacity, not in her capacity as Leader of Opposition in Rajasthan."