An inquiry by the safety commissioner has been ordered. Anusha Soni reports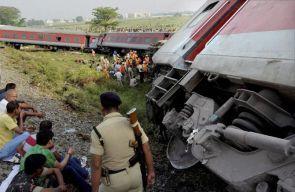 The derailment of the Delhi-Dibrugarh Rajdhani Express on Wednesday at Golden Ganj station (75 km from Patna) near Chapra that claimed four lives may have been worse but for the Linke-Hofmann-Busch coaches, according to experts and former railways officials.

A railways spokesperson said the derailment did not lead to coaches climbing each other, which usually happens in such cases. This was attributed to the LHB coach design.

An inquiry by the safety commissioner has been ordered.

The coaches have been designed by Germany's LHB. The railways have 800 such coaches. The technology has been localised and the four coach factories are expected to start production by 2016 churning 4,000 coaches a year. The coach factory in Kapurthala (Punjab) makes 300-400 coaches a year. Around 43,000 conventional coaches have been made over 50 years.
These make 80 per cent of overall passenger coaches. They can be disposed after their life span of 25 years. The conventional coaches lack anti-climbing features, important not only during collisions but also during derailments. LHB coaches have stronger couplings that prevent climbing on each other. Panels have suggested for any speed over 110 km per hour, such coaches be used.

The Kakodkar panel on safety had suggested stopping the production of ordinary coaches and moving to LHB ones. A complete shift will cost Rs 10,000 crore. The panel suggested the railways shift in five years. But railways' officials say at the current pace it will take 30 years for a switch.

Abhay Agarwal, partner, infrastructure, and public-private partnership advisor, EY, said, "It's high time we focus on bringing investment in railways not only for modernisation but also for better safety."
Other than the cost concerns and questions over the disposal and usage of existing fleet has kept the plans at bay. Currently, Research Design and Standard Organisation is also working to develop ways to make use of ICF coaches sustainable.
Image: Police stand guard at the derailment spot as NDRF officials tried to look for other passengers Photographs: PTI photo