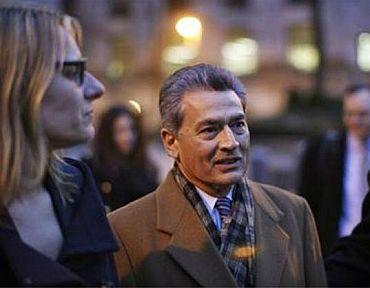 Former Indian American Goldman Sachs director Rajat Gupta is facing trial in one of the most high profile cases of insider trading in the US that will likely see investment guru Warren Buffet and Arcelor Mittal Chairman Lakshmi Mittal as potential witnesses.

Gupta's trial, which is expected to last about three weeks, began with jury selection in the US District Court, Southern District of New York.

Judge Jed Rakoff is presiding over the case.

Rakoff said he has asked for 100 prospective jurors to be summoned to court for the first day of the trial.

Gupta is the most high profile Wall Street executive to be charged in the government's crackdown on insider trading.

He has pleaded not guilty and his lawyers are expected to argue that Gupta had a falling out with convicted hedge fund founder Raj Rajaratnam and did not reap any financial gains through his association with him.

Prosecutors have argued in pre-trial hearings that Gupta passed on to Rajaratnam confidential company information he received as board member of Goldman Sachs and Proctor and Gamble and the Sri Lankan hedge fund founder then made millions in profit and avoided huge losses on the basis of that information.

The trial will likely see Buffet, Berkshire Hathaway reinsurance chief Ajit Jain, Goldman Chief Executive Lloyd Blankfein and Mittal as potential witnesses or whose names could come up at trial.

Prosecutors have submitted more than 50 names to Rakoff of their proposed witnesses.

Gupta submitted a list of 116 names that included Buffett, best-selling author Deepak Chopra, Mittal, Goldman President Gary Cohn, celebrity analyst Meredith Whitney and HP CEO Meg Whitman as "persons who might be mentioned or might testify" at trial.

Prosecutors have in their arsenal secretly-recorded telephone conversations between Gupta and Rajaratnam as well as between Rajaratnam and other corporate executives, which they intend to use during the trial to show the extent of relationship between the two and anchor their case that Gupta shared insider information with Rajaratnam minutes after he got off the phone from a board meeting.

In some of the conversations, Rajaratnam is heard talking about information he received about Goldman's plans from someone who is "on the board of Goldman".

He however has not named Gupta in those conversations. Gupta's lawyers have been trying to exclude the phone conversations as evidence from the case, saying they do not have a direct relation with the insider trading charges.

They have also stressed that Gupta's relations with Rajaratnam soured and he was not happy with a $10 million loss he had to incur in Voyager, an investment fund managed by Rajaratnam. In court papers, Gupta's defence said a week before his arrest in October 2009, Rajaratnam had a tense conversation over a soured investment with Gupta, who was upset and blamed Rajaratnam for taking millions of dollars out of their joint investment fund without disclosing it.

After Rajaratnam's arrest in 2009, Gupta even referred to him as "a bad man" with whom he lost money in a conversation with another Goldman director, according to a government document Rakoff read at a hearing in January.

Anil Kumar, a friend and business associate of both men, had testified at Rajaratnam's trial last year that the Galleon founder had told him that Gupta "had sort of confronted him with saying that he should have paid more attention--he, Rajaratnam, should have paid more attention to what was happening with Voyager and that he was very upset," Kumar said.

"Gupta was very upset...he had $10 million in that Voyager that had all gone to zero."

The trial will be closely watched in corporate America and given the intense media attention on the case, the court has made special arrangements for reporters covering the trial, issuing special passes for access to the courtroom.